---
Automatic Encrusting and Forming Machine -Machinery Design for Taiwanese Company
The dining group operates Cantonese restaurants, hot pot buffets, and Japanese buffets for satisfying various consumers. They used to make their food products by hand. With more and more restaurants opened, the continuing growth in demand for steamed custard buns in all types of their restaurants prompted the company to invest in a new machine to extend its offerings. it's a turn to transform handmade into automatic production. Chefs hoped to maintain food quality while cutting cost so that they found ANKO. We have the largest market share in Taiwan food machine industry and our machine can help them meet the growing demand. After testing our SD-97W, they are satisfied with the multifunctional encrusting and forming machine which offers them the flexibility in production. In addition to steamed custard bun mentioned above, they also use the machine to produce sesame balls.
Case-ID: TW-005
Steamed Custard Buns
Food Ingredient
For wrapper
Cake Flour
Milk
Warm Water
Sugar
Salt
Yeast
For filling
Custard Powder
Wheat Starch
Milk
Unsalted Butter
Sugar
Egg
Egg Yolk
Food Culture
Steamed custard bun (aka milk yolk bun) is must-order steam food in Hong Kong dim sum. As uncovering a steamer, the appetizing smell of milk attracts all gourmets. Bite the steamed custard bun, the inside is thick custard made with egg yolks, butter, cheese powder, and, of course, sugar, then pair with a cup of premium tea to make the snack sweet but not greasy. Some filling even bursts as biting, so consumer also named it Liu Sa Bao (meaning flowing filling bun). In traditional Cantonese restaurants, servers will push trolleys shuttling around tables. Only the way enables consumers to enjoy a burst of filling.
Handmade Food Recipe
Ⅰ. For wrapper
Add yeast in warm water to activate it.
In the same bowl, add flour, milk, sugar, and salt and then stir them into smooth and elastic dough.
Set aside and rest for 2-3 hours.
Ⅱ. For filling::Add custard powder, wheat starch, and sugar in a pot.
Heat the pot on a stove with low heat, add milk in, and then keep stirring until ingredients dissolved.
Beaten egg and egg yolk together and add it into the pot. Still keep stirring.
Add butter in and well mix them together.
Turn off heat, but still stir the custard filling into a smooth ball.
Set aside to cool it.
Ⅲ.
As dough and filling are ready, form custard filling into small balls and remove dough on floured surface.
Knead dough into a long chunk.
Cut the dough up into equal-sized dough balls.
Apply a rolling pin to roll out every dough ball into flat circle.
Put a custard ball on the center of dough wrapper.
Wrap it and seal the wrapper completely.
Rest buns in the steamer for 10-15 minutes.
Turn to high heat and steam them for another 15 minutes.
Turn off steamer and wait for 5 minutes before uncovering
ANKO Team Research Problem Solving or Solution Delivery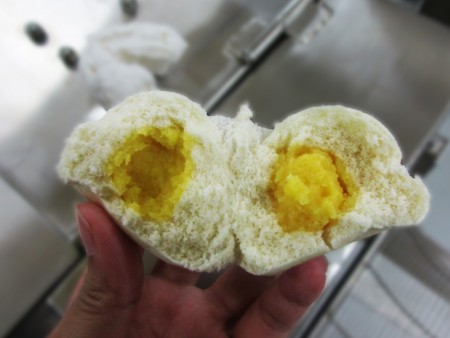 Since the machine released heat in the producing process, the dough was over leavened. ANKO engineer modified the recipe to remain the original taste.
We did a test run of the machine with the client's steamed custard bun recipe. However, the finished buns were inelastic and sank. Through a careful check, we found that the problem was caused by heat released in the producing process. Our engineer adjusted two ingredients...
Food Equipment Introduction
Put filling into filling hopper, turn on the filling and shutter system to adjust and set filling size as required.
Put dough into dough hopper, adjust the shutter system until the wrapper weight meets the requirement.
As the product can be extruded stably with the correct wrapper to filling ratio, SD-97W can be started to automatically wrap custard filling and then divide filled dough into equal-sized balls.
Leavened food products include high sugar and water content. These kinds of food easily stick to machine parts. Let's see how SD-97W Automatic Encrusting and Forming Machine is designed to avoid the problem?
Most sweet snacks and leavened foods are sticky because of high sugar and water content. As ANKO planned to create new machinery, one of projects aimed at this group of food. In order to avoid sticking, our engineers elaborately designed the food contact surfaces of the forming system as less as possible. Only the shutter unit contacts food briefly. Although there is no doubt that the structure of the shutter unit has a significant impact on production, the shutter speed is the key to success. As the shutter opens and closes, a product is formed perfect and pleasing. Moreover, for stickier food production such as mochi, the plate for collecting finished products will be coated with Teflon and dusted with some flour. Also, using the plate, instead of conveyor, can prevent flour from scattering on the ground.
Processing Line Planning
Sieving
Mixing
Vegetable Cleaning
Vegetable Cutting
Extracting
Meat Mincing
Seasoning
Forming
Proofing
Steaming
Sealing
Machines

SD-97W

Automatic Encrusting and Forming Machine is designed to produce food products with filling. With its shutter unit, filled dough can be divided into small or large products, from a minimum of 15 g to a maximum of 70 g. Patterned or non-patterned shutter unit is also optional to form different shapes of food such as baozi, coxinha, kubba, and the like. Moreover, the multipurpose SD-97W features memory function to save five sets of parameter setting, which makes users avoid time-consuming correction and adjustment. For making dual color wrapper, an accessory can be equipped on the machine. The machine for the client was installed the non-patterned shutter unit to cut custard-filled dough up into balls as required.

Video

Automatic Encrusting and Forming Machine can make either patterned or non-patterned products with a simple change of shutters; it also can make either two colors or solid color with a simple change of dough hoppers. Not only the products with red bean paste, meat stuffing, or sesame paste but also plain products are producible. In conclusion, SD-97W can make dozens of ethnic foods such as meat bun, steamed bun, mammoul, meat pie, pan fried stuffed bun, mochi, crystal dumpling, chao zhou dumpling. Their look and taste are able to compare with handmade ones.

Country

Taiwan Ethnic Food Machine And Food Processing Equipment Solutions

---

Our food equipment solutions for clients from over 108 countries. You can click on the following categories to view cases. Each case shows how ANKO conducts food machine solutions - from the beginning of ingredient preparation, machine design and manufacture, troubleshooting and after service.

---

---

Solution Area

Category

---

Downloads

---
Menu
Recommandation
ANKO Steamed Custard Buns Equipment Solutions
ANKO FOOD MACHINE CO., LTD. is a food making machine manufacturer and a food production solution supplier. We've been offering professional food equipment since 1978. With years of experience in the food machine market, ANKO makes sure that our food equipment meets customers' demands.
Food Processing Equipment Solutions
View our new food processing machine and turnkey solutions