---
ANKO Automatic layered Paratha Production Line – Machinery Design for a Bangladeshi Company
The client had been processing aquatic food products on the beginning of his business and becoming a leader in local food industry. Then, the client established a new plant to produce flour and pastries. Bangladesh is a dense area in which there are tremendous opportunities in the frozen food market. Because paratha is a common food in this area and the client has a flour factory, he decided to run a paratha production line. By word of mouth, they approved ANKO's ability to plan a turnkey. Plus, our advantage is the flexibility of planning production line and installing machine, depending on the client's space. Therefore, they believe in our machines and services, purchasing the whole production line from dough mixer to food packaging from ANKO.
Case-ID: BD-001
Paratha
Food Ingredient
Food Culture
Paratha is a kind of flat, round, layered bread with ghee. But, sometime, it can be triangular or square. Layered paratha has layers of taste, soft inside and crispy outside. If it is a stuffed paratha, the taste would be even more abundant. Cheese, vegetables, or potato are ingredients they usually add as fillings. Side dishes like pickles, vegetable or meat curry, or simply a hunk of butter are the most common ones to eat with paratha. As the food culture spreads to Malaysia, the food similar to paratha becomes their main dishes. And curry is still their favorite dip. To have a mouth of paratha and a mouth of Teh Tarik must be a wonderful savor.
Handmade Food Recipe
Mix atta, salt, oil, moderate water.
Knead them into pliable dough. Then, set aside for 30 minutes.
Divide the dough into several equal dough balls.
Apply a rolling pin to roll a dough ball into 4 inch diameter circle.
Smear ghee on the surface of paratha.
For making square paratha, fold one side toward center and smear ghee on the surface of folded part.
Fold the other side toward center and also smear ghee on the surface of folded part.
Then, fold the left and right side toward center to make the shape into a small square. Remember to smear ghee on every folded part.
Sprinkle some flour on top and roll the square dough into flat.
Repeat the above steps to make several parathas.
Heat a tava to cook paratha and keep flipping it over until you see brown flecks.
ANKO Team Research Problem Solving or Solution Delivery
Solution 1. The installation of some units is flexible to fit the client's factory space.
The client purchased all machines from ANKO for his paratha production line. However, his factory space was limited and freezers were set up. As a result, ANKO reassembled margarine extruder from the left side of machine to the right side. At first ANKO RD team had considered the flexibility of machine installation. Due to the sensible design, the change did not affect production and food quality.
Solution 2. The dough, made with the client's recipe, broke and overflew through the dough feeding unit.
To adjust the speed of feeding rollers might be the solutions of the dough break and overflow, our engineer found.
The original design of dough feeding rollers was three sets, two rollers in each set. The quantity of dough entered and exited from feeding rollers was only controlled by the space between two rollers. The engineer found that the rotary speed of rollers was also the key to adjust the quantity. In other words, if rollers rotate too slow, dough accumulates before entering the rollers; if rollers rotate too fast, dough is not enough to be fed through the rollers, which results in the break. Therefore, we redesigned the dough feeding unit, ...(Please contact us to get more information)
Food Equipment Introduction
Mix ingredients in a certain ratio, knead them into dough, and put the dough into hopper.
Press dough into dough belt.
Continue sheeting into desired thickness.
Extrude margarine on the center of dough belt. The margarine is about one third of dough belt.
Fold dough belt from both right side and left side toward center.
Press dough belt again via sheeting roller.
Arrange the following conveyor in different direction to fold dough belt forth and back as "Z" to produce paratha layers.
Press dough belt again.
Roll up dough belt into a long cylinder.
Cut into balls via shutter unit.
Rest dough balls.
Apply PP-2 automatic filming and pressing machine to cover dough balls with film and press them into flat dough.
Apply SA-113 continuous-type sealing machine to seal every package.
Fundamental of Design
Place dough balls on fixed positions that are covered with food wraps.
Cover dough balls with another food wraps.
Press dough balls into required size and thickness.
Cut wraps off.
Stack up products. The number of products in a pile is adjustable.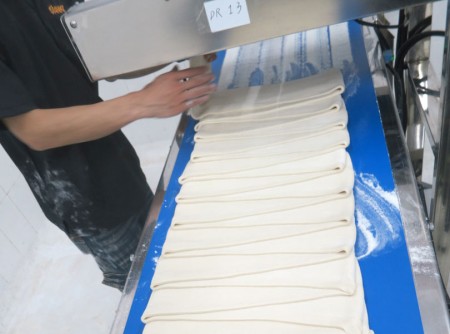 What are the tips that machine makes layers of flavor of paratha?
The first tip is to extrude a flake of margarine. The purpose is to evenly wrap margarine in dough belt. In addition, ANKO's Automatic layered Paratha Production Line includes many sheeting roller units. After Z-shaped folding, ...(Please contact us to get more information)
Brilliant ideas of rolling machine of LP-3001
In order to double layers, Automatic Layered Paratha Production Line equips a rolling machine to concentrically roll up layered margarine dough belt. Moreover, how to prevent rolled dough from unrolling? The solution is ...(Please contact us to get more information)
Machines

LP-3001

LP-3001 automatically fills margarine and folds up dough belt multiple times from different direction. The whole making process is designed by imitation of hand gestures. Repeating folding and sheeting as well as rolling at the last stage aims to produce multilayer products with layers of flavor. The optional stuffing machine for installing on LP-3001 satisfy client's requirement to produce many stuffed foods such as croissant, paratha, green-scallion pie, Danish pastry, palmier, etc.

EA-100R

EA-100R is suitable for working with different ANKO's machine such as HLT series, SB-880, LP-3001, etc. to cut a long dough roll into spherical foods or buns with pattern on top. In the case, the client cut the layered dough roll into dough balls. After resting for a while, PP-2 continues the processes of pressing and filming. (photo: The one on the left is the final product cut by patterned shutter, the other is cut by non-patterned shutter.)

PP-2

Automatic filming and pressing machine is flexible to press products with different thicknesses and sizes as required. After cutting into dough balls by EA-100R, PP-2 will automatically film and press products to prevent dough sticking together. Chinese pancake, paratha, green-scallion pie and the like are suitable for the machine. For the client's convenience, the number of final products in a pile is adjustable to reduce labor cost and prevent mistakes from manual counting.

SA-113

SA-113 utilizes the method of hot melt to seal food packages. The design of conveyor delivers products to complete the whole processes automatically, even stamping manufacture and expiry dates are included.

Video

The processes of cutting and stacking filmed products - After pressing filmed dough, the products are cut by safety cutter in standard size for stacking easily.

Z-shaped folding and sheeting processes - In order to increase more layers, dough belt is stacked back and forth. Then, it is thinned again, before rolling up. In the video, dough layers and the differences of thickness are obvious.

Country

Bangladesh Ethnic Food Machine And Food Processing Equipment Solutions

---

Our food equipment solutions for clients from over 108 countries. You can click on the following categories to view cases. Each case shows how ANKO conducts food machine solutions - from the beginning of ingredient preparation, machine design and manufacture, troubleshooting and after service.

---

---

Solution Area

Category

---

Downloads

---
Menu
Recommandation
ANKO Paratha Equipment Solutions
ANKO FOOD MACHINE CO., LTD. is a food making machine manufacturer and a food production solution supplier. We've been offering professional food equipment since 1978. With years of experience in the food machine market, ANKO makes sure that our food equipment meets customers' demands.
Food Processing Equipment Solutions
View our new food processing machine and turnkey solutions