---
ANKO Danish Pastry Industrial Production Line - Machinery Design for an Indian Company
Danish Pastry
Food Ingredient
Strong Flour
Weak Flour
Yeast
Milk
Egg
Butter
Sugar
Salt
Water
Food Culture
Danish pastry is one type of bread that you can see everywhere at bakery. From the plain bread to flavored ones, they are great dessert to have with a cup of hot tea.
Handmade Food Recipe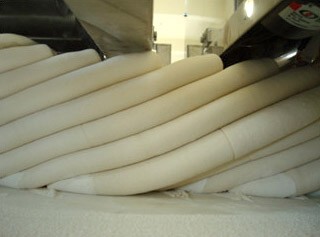 Flour Dough Making
Put an egg, milk, 2/3 flour, salt butter, yeast, all mix together. Leave it for about 2 to 3 minutes, sprinkle a bit of flour and shape it into a dough ball. Let it rest for half or an hour, depending on the temperature and humidity in the kitchen. Grab some cold butter and put some flour, beat it with a stick for 5 minutes, until it has the same consistency as the dough. The dough ball and kneaded cold butter should be the same size. Roll out the dough ball as a sheet to wrap the handled cold butter.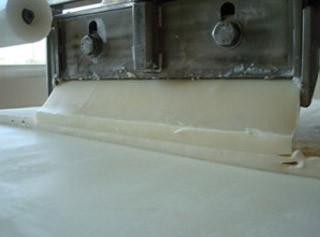 3*3 foldings
Now, the dough is ready to be folded. Use the pastry roller to roll out the dough and make it thin and long, and then fold twice to make 3 layers. (Rest dough for 20 minutes before doing the 2nd time folding). Do it three times with the same dough. In the end, cut to the desired sizes and more rolls and folds after adding filling. Sprinkle sugar on the surface of the pastry, the sugar will make the Danish pastry brown and solid. Put them in the oven and bake for half to 1 hour.
ANKO Team Research Problem Solving or Solution Delivery
Solution 1. Danish Pastry Dough Resting Conveyor Design
In the procedure of test before handing over the machine, ANKO found that, after the dough was mixed and kneaded, then rested for 30 minutes on the dough resting conveyor. The character of dough is changed during the resting process, which caused either dough skin to tear apart or become stacked up together. To solve the problem ...(Please contact us to get more information)
Solution 2. CE/UL/CSA certified pastry processing line
For the accessories of the pastry making machine, ANKO utilized companies that were appointed by their client in order to pass government regulations. As a result, the processing equipment was CE/UL/CSA certified, meeting international standards.
Solution 3. Inverter Control Panel Issue Resolve
Inverter control panel is normally dysfunctional when it's - bumped, humid or defective. It may be still useable but not 100% functional when operating a food processing line. This problem may happen when the food processing machine is installed somewhere humid. With our client, the food machine didn't work properly and they contacted ANKO for solutions. To remove the obstacle ...(Please contact us to get more information)
Food Equipment Introduction
Place the dough into the hopper. Through the special designed rollers the dough will be rolled into a thin dough belt.
Sheeting and Pressing: The built-in sheeting device saves the client buying one. The dough belt will be rolled again into required size.
The margarine is extruded onto the dough belt. Through a special designed wrapping mechanism, the margarine is well wrapped inside the dough sheet, which will not leak out to destroy the layers of pastry.
Sheeting the stuffed dough skin.
1st Swing Folding: folding mechanism swings the dough belt with margarine inside onto the delivering conveyer to increase the layers of pastry.
Pressing and double sheeting: pressing and flatting is one of the major processes during the procedures. During the process, dough and margarine eventually even out.
2nd Swing Folding.
20 minutes dough resting and then following with a pressing process.
Triple sheeting.
Cutting and forming: the edge of dough skin is trimmed to the proper size and ready to be baked.
ANKO's goal is to design a food processing production line that would produce pastries with 100% handmade texture, and is energy saving and cost effective for the client. In addition, the Danish pastry production line meets production capacity requirements for their chain stores' increased sales.
Machines

LP-3001 - Automatic Layer & Stuffed Paratha Production Line

LP-3001 is food processing equipment that is specifically designed to make pastries with fermentation and lamination processes. The challenge of the design is to produce pastries that would taste like they come from experienced chef's hands. It is about dough's resting time, rolling and pressing, and the mixing of ingredients. With LP-3001, the manufacturer will be able to make western and Asian pastries including Green Scallion Pie, Paratha, Roti Canai, Puff Pastry, Stuffed Paratha, Cronut, Croissant Donut, etc. The high production capacity (550~600KG/hr) would allow high sales amount.

Video

Automatic Danish Pastry Production Line Video - ANKO's Danish pastry processing line not only supplies Danish pastry, but it is also capable of making French viennoiserie, Puff Pastry, burek, burekas, Börek.

Country

India Ethnic Food Machine And Food Processing Equipment Solutions

---

Our food equipment solutions for clients from over 108 countries. You can click on the following categories to view cases. Each case shows how ANKO conducts food machine solutions - from the beginning of ingredient preparation, machine design and manufacture, troubleshooting and after service.

---

---

Solution Area

Category

---

Downloads

---
Menu
Recommandation
ANKO Danish Pastry Equipment Solutions
ANKO FOOD MACHINE CO., LTD. is a food making machine manufacturer and a food production solution supplier. We've been offering professional food equipment since 1978. With years of experience in the food machine market, ANKO makes sure that our food equipment meets customers' demands.
Our products include automatic encrusting and forming machine, multipurpose filling and forming machine, automatic spring roll pastry and samosa pastry machine, automatic shumai machine, and spring roll production line. Please feel free to
Contact Us
.
Food Processing Equipment Solutions
View our new food processing machine and turnkey solutions