---
Xiao Long Bao Making Machine – Machinery Design for Dutch Company
The client started his business by opening a restaurant in Netherlands, serving dim sum dishes. He studied the Dutch flavor and healthy recipes to catch customer's heart. With the increasing popularity of dim sum, he began running a food factory. As seeking food equipment, he knew that ANKO has years of experience in the dim sum making machinery and provides customization in accordance with individual needs and factory planning. Therefore, he decided to cooperate with ANKO.
Case-ID: NL-003
Mini juicy bun (Xiao Long Bao)
Food Ingredient
For wrapper
All Purpose Flour
Warm Water
For filling
Ground Pork
Salt
Sesame Oil
Sugar
Soy Sauce
White Pepper
Minced Ginger
Shaoxing Wine
Aspic
Food Culture
Mini juicy bun, xiao long bao, or often known as soup dumpling, as its name implies, has meat juices sealed in the wrapper after steaming in a bamboo steamer. Chinese buns usually filled with minced pork and chopped vegetable; then, what's the difference between mini juicy buns and other kinds of buns? Mini juicy bun is made with unleavened and thin wrapper that becomes translucent after steaming, revealing filling and meat juices inside, whereas other buns are mostly made with leavened dough and thicker. The mini juicy buns are often dished up along with a small dish of soy sauce and ginger shreds sometimes white or black vinegar is added.
Din Tai Fung, a world-renowned xiao long bao restaurant in Taiwan, is famous for the 18-folds crown on top of each xiao long bao. Due to Din Tai Fung's success, the dish of xiao long bao becomes popular around the world and is served in many Chinese restaurants.
Handmade Food Recipe
Ⅰ. For filling
Add ground pork, salt, sesame oil, sugar, soy sauce, white pepper, minced ginger, shaoxing wine in a large bowl and mix them together thoroughly.
Roughly chop the aspic and add into the bowl.
Gently stir the aspic and the filling together.
Refrigerate the mixed filling when preparing the dough of mini juicy buns.
Ⅱ. For wrapper
Take another mixing bowl.
Add all-purpose flour and warm water into the bowl.
Stir them well and knead the dough until smooth.
Cover the bowl with a cloth and rest the dough for 30 minutes.
Roll the dough into a cylinder. Then, divide it into 8-gram dough balls.
Roll out each dough ball into a round wrapper.
Ⅲ.
Take out the filling.
Place a spoon of the filling in the middle of the wrapper.
Pinch and pleat the wrapper to seal the filling.
Steam mini juicy buns in a steamer.
ANKO Team Research Problem Solving or Solution Delivery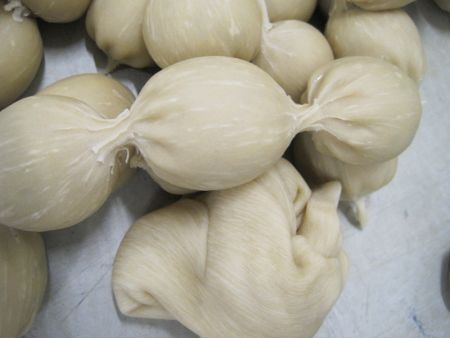 The forming machine could not cut and form filled dough tube into individual mini juicy buns.
The recipes of handmade foods are not all suitable for machines to manufacture foods. For example, heat generated by machine operation makes dough warmer than that kneaded by hand. Therefore, the ingredients of dough need to be adjusted to prevent dough from degrading.
Food Equipment Introduction
Put the filling into the filling hopper.
Put the dough into the dough hopper.
The cylindrical filling is extruded by the filling pipe of HLT-700XL.
The dough tube is extruded by the dough pipe of HLT-700XL.
The cylindrical filling is encrusted with the dough tube while they are formed.
The filled dough tube is cut and formed into individual mini juicy buns with 9 folds on top by the EA-100K (the updated model: EA-100KA) forming machine.
The mini juicy buns are continually steamed on a steam conveyor.
The shutter unit of the EA-100K forming machine is designed with great ingenuity to prevent dough from sticking.
In order to prevent dough from sticking, our engineers minimized the contact time and surface when the shutter unit cut and form the products. Although there is no doubt that the structure of the shutter unit has a significant impact on production, the shutter speed is the key to success. At the moment the shutter opens and closes, a product is formed perfect and pleasing. (Note: EA-100K is no longer available. The updated model is EA-100KA. Please feel free to contact us for more information.)
Processing Line Planning
Sieving
Mixing
Vegetable Cleaning
Vegetable Cutting
Extracting
Meat Mincing
Seasoning
Forming
Sealing
Solution Proposal

The mini juicy bun production solution covers equipment and service

ANKO did

It is common to adjust recipe when switching manual to automatic production. Our engineers have extensive knowledge of mini juicy bun and its ingredients, so the problem in this case can be rapidly solved by recipe adjustment. With a slight change in proportion, the mini juicy bun machine can mass-produce high quality mini juicy bun without compromising its taste.

ANKO can help you more

We have equipment for preparing, filling/forming, cooking, and extended application such meat grinder, steamer, and packaging machine. You can have not only one-stop purchase service, but also complete after-sales services, including one-year warranty, maintenance packs, staff deployment, and workflow planning.

If you need further information, please click Learn More or fill out the inquiry form below.

Machines

HLT-700XL

The HLT-700XL Multipurpose Filling & Forming Machine extrudes the filling into the dough tube and the filled dough tube is formed into desired shapes with different molds. The principle of the HLT-700XL is simple and widely applied in producing a variety of filled foods such as pelmeni, pierogi, momo, empanada, calzone, samosa, etc.

EA-100K

EA-100K is for producing round or oval products. Through the shutting action of the shutter unit, the filled dough tube is divided into equal products with or without pattern on top. (Note: EA-100K is no longer available. The updated model is EA-100KA. Please feel free to contact us for more information.)

The shutting action of EA-100K shutters.

The machine equips with pattern shutters in this video. The filled dough pipe is continuously conveyed to EA-100K and cut off as required through the shutting action of shutters. (Note: EA-100K is no longer available. The updated model is EA-100KA. Please feel free to contact us for more information.)

Video

Mini juicy bun with thin wrapper and meat-and-vegetable filling can be automatically produced by food equipment. Simply put the dough and filling into the hoppers, the Multipurpose Filling & Forming Machine can automatically extrude the filling into the dough tube. Then, the Forming Machine cuts and pinches pleats on the top of the mini juicy buns, which only needs one second.

Photo Gallery

Country

Netherlands Ethnic Food Machine And Food Processing Equipment Solutions

---

Our food equipment solutions for clients from over 108 countries. You can click on the following categories to view cases. Each case shows how ANKO conducts food machine solutions - from the beginning of ingredient preparation, machine design and manufacture, troubleshooting and after service.

---

---

Solution Area

Category

---

Downloads

---
Menu
Recommandation
ANKO Mini juicy bun (Xiao Long Bao) Equipment Solutions
ANKO FOOD MACHINE CO., LTD. is a food making machine manufacturer and a food production solution supplier. We've been offering professional food equipment since 1978. With years of experience in the food machine market, ANKO makes sure that our food equipment meets customers' demands.
Food Processing Equipment Solutions
View our new food processing machine and turnkey solutions