---
ANKO Vegetarian Dumpling Multipurpose Filling & Forming Machine – Machinery Design for Taiwanese Company
Dumpling
Food Ingredient
For wrapper
All Purpose Flour
Water
Salt
For filling
Corn Starch
Cabbage
Carrot
Glass Noodles
Shiitake
Oil
Food Culture
Dumpling history begins from the ancient China. We usually categorize this kind of staple–water-and-flour-made wrapper wraps up vegetables / meat stuffing–as dumpling. In early times, meat was only consumed at festivals and dumpling looked like ancient money that symbolized rich and lucky. Therefore, having dumplings not only satisfied gustatory desire, but also delivered symbolic meaning on the first day of Chinese new year. Now, dumpling becomes a national dish commonly cooked in boiling water that is very convenient and time-saving. Sometimes, people enjoy the combination of other cookery such as steaming, frying, or deep-frying, as well as stuffing variants and dips. It is believed that the relish of dumpling pass down from generation to generation.
Handmade Food Recipe
Ⅰ. For wrapper
Add all purpose flour and a pinch of salt in a large bowl and stir well
Pour water and stir them together with chopsticks.
Knead dough until smooth and elastic.
Roll into cylindrical dough and cut out small dough balls in equal size.
Gently roll each dough balls between palms, and then apply a rolling pin to roll out them.
Apply a round cutter to cut wrappers.
Ⅱ. For filling
Chop cabbage, carrot,glass noodles, and shiitake.
Heat a wok and add oil in it.
Fry all ingredients.
Ⅲ.
Take a wrapper in the palm.
Scoop a teaspoon of filling on the center.
Smear water on the edge and fold it in half.
Pleat the edge and slightly press each fold.
ANKO Team Research Problem Solving or Solution Delivery
Vegetarian dumplings without fat as lubrication result in extrusion failure or unstable extrusion.
The product stuffing consists of no meat but cabbage, glass noodles, shiitake, and carrot. It is a typical problem of producing vegetarian food with more fibers but without fat for lubricating. Therefore, adding...(Please contact us to get more information)
Food Equipment Introduction
Put stuffing into stuffing hopper.
Pour dough into dough hopper.
Extrude cylindrical stuffing from stuffing pipe.
Extrude dough tube from dough pipe.
Fill stuffing into dough tube while dough and stuffing extruding.
Through rotary molds, form products as the required shape.
Scrape off products from rotary molds by a scrapper.
Line up finished products on conveyor for packing or cooking.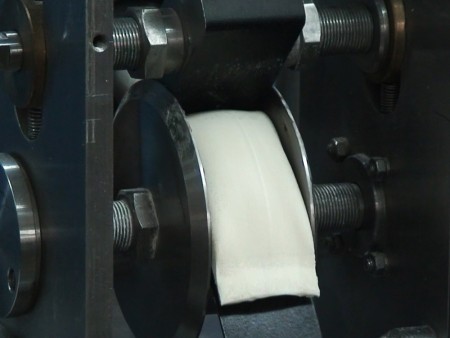 With different ingredients and molds, the combinations form numerous ethnic foods, but their production is based on the same principle of machinery.
In terms of dumpling, it not only is a national dish for Chinese, but also refers to similar food in different countries because their production processes are very much alike. HLT-series made by ANKO is suitable for making foods with different ingredients and dough textures. ANKO team will evaluate tastes and shapes until the food, produced by HLT-700 series, is pleasing in taste and appearance. Also, we take out a patent on the machine (No. I354541). 30 standard molds are available for customer to choose, plus those custom molds, there are more than 600 types.
ANKO has put a lot of effort to achieve that, simply one machine with customized molds enable our clients to produce various food products efficiently and develop market segmentations to create business value.
In the process of producing dumplings, proper temperature control can ensure the stability of production.
Dough temperature will rise in the process of production, which leads to stickier and softer dough wrappers. ANKO's HLT-series machine is equipped with a cooling system to cool dough. As extruding, dough tube will be maintained in a certain temperature to guarantee the best taste. The cooling system is considerately designed a light to remind workers to refill iced water, helping to save checking time.
Processing Line Planning
Sieving
Mixing
Vegetable Cleaning
Vegetable Cutting
Extracting
Meat Mincing
Seasoning
Forming
Sealing
Machines

HLT-700XL

HLT-700XL is able to extrude a dough tube and fill it with stuffing; then, through different molds, the filled tube can be form into the shape as required. The simple machine design applies to a broad range of food products belonging to the category of wrapper-and-stuffing foods. Both western and eastern foods, such as pelmeni, pierogi, momo, empanada, calzone, samosa, are producible by the Multipurpose Filling & Forming Machine.

Video

ANKO best-selling HLT-series can produce diverse ethnic foods through the change of molds and food ingredients. Moreover, we can also customize molds to meet individual requirement. Last but not least it is the solution to achieve great efficiency.

Country

Taiwan Ethnic Food Machine And Food Processing Equipment Solutions

---

Our food equipment solutions for clients from over 108 countries. You can click on the following categories to view cases. Each case shows how ANKO conducts food machine solutions - from the beginning of ingredient preparation, machine design and manufacture, troubleshooting and after service.

---

---

Solution Area

Category

---

Downloads

---
Menu
Recommandation
ANKO Dumpling Equipment Solutions
ANKO FOOD MACHINE CO., LTD. is a food making machine manufacturer and a food production solution supplier. We've been offering professional food equipment since 1978. With years of experience in the food machine market, ANKO makes sure that our food equipment meets customers' demands.
Our products include automatic encrusting and forming machine, multipurpose filling and forming machine, automatic spring roll pastry and samosa pastry machine, automatic shumai machine, and spring roll production line. Please feel free to
Contact Us
.
Food Processing Equipment Solutions
View our new food processing machine and turnkey solutions