---
Stuffed Paratha Machine-Machinery Design for Indian Company
The client's company had gained a firm foothold in India and then he planed to expand into the U.S. market so that having accurate food quality control and standardization, product line extension, productivity improvement are essential. He compared ANKO with other food machine suppliers and found ANKO is superior to them. ANKO has higher market share in India, offers wrapper and filling recipe to meet individual need, and has years' experience in designing food production routes and supply chain integration. Finally, he chose ANKO as their business partner.
Case-ID: IN-007
Stuffed Paratha
Food Ingredient
For wrapper
Whole Wheat Flour
Water
Oil
Salt
For stuffing
Potatoes
Green Beans
Food Culture
Paratha is a kind of unleavened flatbread which is popular breakfast or street food in South Asia. Paratha dough is kneaded with ghee (butter) or oil and the filling stuffed in paratha can be potato, leaf vegetables, corn, onion, tomato, etc., to add various flavors, then deep-fried, baked, or fried. No matter what flavor the stuffed paratha is, it is usually served with some pickles, or with vegetable / meat curries, sometimes spread a dollop of butter on top.
Handmade Food Recipe
For stuffing
Peel and dice potatoes.
Steam the diced potatoes and green beans until soft.
For wrapper
Add wheat flour, oil, and salt in a large bowl, then mix them well.
Add water little by little as kneading the dough.
After the dough is kneaded into a chunk of soft and smooth dough, cover it with a cloth and rest it for 15-20 minutes.
Divide the dough into 8 equal portions.
Roll each portion into a rough ball and slightly press each ball like a patty.
Divide the filling into 8 equal portions and roll each portion into a rough ball as well.
Apply a rolling pin to roll out dough balls into circular wrappers about 100 mm in diameter.
Put a filling ball in the center of a dough wrapper.
Wrap up and seal the seam tightly.
Roll out again into a circle about 150 mm in diameter.
Repeat the last three steps to finish the rest.
Heat a tava, Bake both sides of a stuffed paratha over medium heat until golden brown.
ANKO Team Research Problem Solving or Solution Delivery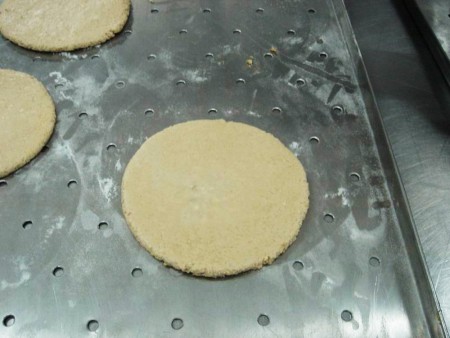 Due to the filling was too moist, the edge of stuffed paratha torn and the filling easily burst the wrapper.
In the process of pressing stuffed paratha, mashed potatoes burst the wrapper when pressing because they had more water content and extensibility than dough wrapper. To solve the problem ....→To get more information? Please Contact Us Below
Food Equipment Introduction
Mix and knead flour, water, salt, and oil into dough.
Dice potatoes and then steam them with green beans until soft, mash them together.
Put dough and filling into SD-97L' s dough hopper and filling hopper, respectively.
SD-97L automatically wraps filling in dough tube and divides stuffed dough into 110 to 120-gram balls.
Use APB-2 to press and heat the dough balls into flat circles in case they shrink.
Use APB-2 to press the dough balls into flat circles and heat them in case they shrink.
Bake the stuffed paratha.
Pack and send them to be frozen.
How to adjust the thickness of dough wrapper
With the design of SD-97L, dough is extruded into dough tube which is stuffed with filling at the same time. The thickness of dough tube is the key to determine the mouthfeel of food and whether the dough wrapper can fully wrap the filling. Therefore, the adjustment nut is designed to make subtle changes of the dough tube thickness. For much thicker or thinner wrapper, we also offer customized dough extrusion nozzle to meet individual demand.
The secret to maintain dough texture in the SD-97L design
Some machine-made food products, especially those made from flour, are not as good as handmade when machine over-kneads dough and destroys its texture and elasticity....→To get more information? Please Contact Us Below
Machines

ACD-800

Types of knifes are available for different cuts. Slicing, dicing, and shredding can be done in one machine. The client uses the machine to dice potatoes. Dice can range in size from 10, 12, 15, to 20 cubic millimeters. The economic and multipurpose vegetable cutting machine can fast process 200-800 kg of vegetables in one hour.

SD-97L

Automatic Encrusting and Forming Machine is designed to produce stuffed food products. The shutter unit divides stuffed dough into small or large products, from a minimum of 40 g to a maximum of 200 g. Patterned or non-patterned shutter unit is also optional to form different shapes of food such as baozi, coxinha, kubba, and the like. Moreover, the multipurpose SD-97L features memory function to save five sets of parameter setting, which makes users avoid time-consuming correction and adjustment. As for the case, the mashed potato is wrapped with paratha dough and then the stuffed dough is divided into round semi-products. Finally, they are heated as pressing with the APB-2 machine.

APB-2

APB-2 Pressing & Heating Machine can work with dough divider or be integrated into layered dough production line to heat press and form food. The heat temperature, pressing time, and the thickness of final products are adjustable to satisfy individual needs. All parts of APB-2 comply with hygiene regulations, made of food grade stainless steel, plastic materials, and aluminum alloy.

Video

Manually spread oil and form divided stuffed dough into balls, then put them on APB-2, the process of pressing and heating can prevent the dough from shrinking and deforming for the next cooking process.

Country

India Ethnic Food Machine And Food Processing Equipment Solutions

---

Our food equipment solutions for clients from over 108 countries. You can click on the following categories to view cases. Each case shows how ANKO conducts food machine solutions - from the beginning of ingredient preparation, machine design and manufacture, troubleshooting and after service.

---

---

Solution Area

Category

---

Downloads

---
Recommandation
ANKO Stuffed Paratha Equipment Solutions
ANKO FOOD MACHINE CO., LTD. is a food making machine manufacturer and a food production solution supplier. We've been offering professional food equipment since 1978. With years of experience in the food machine market, ANKO makes sure that our food equipment meets customers' demands.
Our products include automatic encrusting and forming machine, multipurpose filling and forming machine, automatic spring roll pastry and samosa pastry machine, automatic shumai machine, and spring roll production line. Please feel free to
Contact Us
.
Food Processing Equipment Solutions
View our new food processing machine and turnkey solutions