---
Automatic Spring Roll and Samosa Pastry Sheet Machine - Machinery Design for Indian Company
This food product supplier gains flavor with locals in India. It is given the title of delicious food supplier whose frozen food products and bakery can be seen everywhere. In order to meet the demand of samosa, the supplier was looking for a food processing machine manufacturer providing high-quality machinery and professional services. Finally, they found ANKO had relevant techniques to build a samosa pastry production line, as a result, they decided to cooperate with ANKO to improve productivity.
Case-ID: IN-005
Samosa pastry
Food Ingredient
All Purpose Flour
Maida
Ghee
Oil
Water
Ajwain
Salt
Food Culture
It is believed that the samosa originated in Central Asia and was introduced to the Indian subcontinent in the 13th or 14th century by traders from the region. The word samosa can be traced to the Persian "sanbosag". The name in other countries also derives from this root, such as the crescent-shaped "sanbusak" or "sanbusaj" in Arab countries, "sambosa" in Afghanistan, "samsa" in Turkish-speaking nations, "sambusa" in parts of Iran and "chamuça" in Goa and Portugal.
Ibn Battuta, the 14th century traveler and explorer, described a meal at the court of Muhammad bin Tughluq where the "samushak" or "sambusak", a small pie stuffed with minced meat, almonds, pistachio, walnuts, and spices, was served before the third course of "pulao".
Handmade Food Recipe
Add flour, ajwain, a pinch of salt in a bowl.
Stir well and add ghee or oil.
Use fingers to rub ghee until the mixture becomes breadcrumbs.
Add water.
Knead them into dough with hands.
Cover with a wet cloth and set aside to rest for 30 minutes.
Cut the dough in half.
Roll out each dough into 3 cm thick round pastry.
Apply a round pastry cutter to cut out small round pastries.
Roll out each small piece of pastry into 0.5 mm thick.
Cut it in half.
Use a brush to smear water on the straight edge.
Roll into a cone shape and seal the seam for filling.
ANKO Team Research Problem Solving or Solution Delivery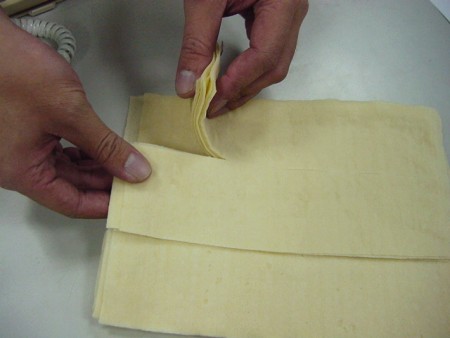 How to solve these problems that the samosa pastry became yellow and their texture was not as delicate as required
The final products should be delicate in texture to wrap up stuffing and deliver nice-looking products to consumer's hands. In the first test, ANKO team noticed that the pastry were close to yellow. Therefore, engineers made some adjustment to solve problems. The solutions were listed below:
1. Reduce the amount of ...(Please contact us to get more information)
Food Equipment Introduction
Pour well-stirred batter into the hopper
Adjust settings on the control panel and make sure the temperature and condition of baking drum.
Bake batter into a pastry belt.
Straightly trisect the pastry belt.
Cool it by fans.
Cut into required length.
Stack pastry.
Fundamental of Design
The client would like to improve productivity of samosa. Therefore, ANKO recommended the stable and productive Automatic Spring Roll and Samosa Pastry Sheet Machine which can produce up to 16,200 pieces in one hour.
The length and width of samosa pastry are adjustable as required through the changes of parts and settings. The unstable quality of products resulted from the handmade production can be solved.
The automatic staking device piles pastries neatly to make the next manual wrapping process more convenient. Moreover, the quality of samosa pastry made by machine would be more stable and uniform than that made by hand.
Product quality is of concern to the client and ANKO. We are devoted to provide consumers the safest food with best quality. As designing SRP Series machine, the client's requirements are taken into consideration. We provide stable machinery and solutions to produce products with taste and texture like handmade and satisfy individual demand.
Processing Line Planning
Sieving
Mixing
Spring Roll Equipment
Sealing
Machines

SRP Series Automatic Spring Roll and Samosa Pastry Sheet Machine

After pouring prepared batter into the hopper, the first production process is to bake batter by the baking drum designed by ANKO's R&D team and then a pastry belt is conveyed to go through cooling fans. Continuously, the high-quality copper cutter rotates to cut out 8,100 pieces of samosa pastry in one hour. Moreover, through the change of parts and settings, the length and width of pastry are adjustable.

Video

Automatic Spring Roll and Samosa Pastry Sheet Machine is unique, stable, and productive. Not only spring roll pastry, samosa pastry but also crepe, crepe with brown pattern, Blini are producible by SRP Series.

Country

India Ethnic Food Machine And Food Processing Equipment Solutions

---

Our food equipment solutions for clients from over 108 countries. You can click on the following categories to view cases. Each case shows how ANKO conducts food machine solutions - from the beginning of ingredient preparation, machine design and manufacture, troubleshooting and after service.

---

---

Solution Area

Category

---

Downloads

---
Menu
Recommandation
ANKO Samosa pastry Equipment Solutions
ANKO FOOD MACHINE CO., LTD. is a food making machine manufacturer and a food production solution supplier. We've been offering professional food equipment since 1978. With years of experience in the food machine market, ANKO makes sure that our food equipment meets customers' demands.
Food Processing Equipment Solutions
View our new food processing machine and turnkey solutions