---
ANKO Paratha Automatic Filming and Pressing Machine –Machinery Design for a United Arab Emirates Company
Muslim is the major population in Middle East, which shapes their food culture, halal food. Also, in a fast-paced environment, frozen food becomes one of favorite items in shopping lists. The client is also running business about frozen food like kubba, samosa, chicken fingers. When every producer is keen to develop product differentiation in size or new product, they need a machine supplier who can shortly customize machine to meet individual requirement. ANKO is a professional team; more than half of employees are experienced engineers in which there are over 20 RD engineers. Through interior integration, we quickly react to modify machine as required. Therefore, the client asked ANKO to customize large size filming and pressing machine for him.
Case-ID: AE-001
Paratha
Food Ingredient
Whole Wheat Flour
Oil
Water
Salt
Food Culture
Paratha is a kind of unleavened bread with ghee or butter added as kneading dough. Either deep-frying or baking is great for cooking paratha. In South Asia, it is commonly served for breakfast or snacks. The combination of paratha and various stuffings, including potato, leaf vegetables, paneer, corn, onion, or tomato, brings many gustatory experiences. Some people prefer plain paratha with egg, keema masala (minced meat), jeera aloo(fried potato) or with sugar, raita(yogurt) as sweet dishes that the light tastes are suitable for enjoying during Indian summer.
Handmade Food Recipe
Add whole wheat flour, salt, and oil in a bowl, and then add water little by little until the dough is pliable.
Rest dough for 30 minutes.
Divide it into equal size dough balls.
Sprinkle some flour and roll a ball into a small circle.
Fold it in half and spread some oil on the half surface.
Fold the semicircle in half and spread some oil on the folded part.
Dust flour and roll into a circle about 6 inches.
When all parathas are ready, heat a tava, and then cook paratha one by one.
Cook one side first. When the paratha puffs up, apply a spatula to flip it over.
Cook a while and spread oil on the top side. Flip it over again.
Repeat the last step until there are brown spots on the paratha.
ANKO Team Research Problem Solving or Solution Delivery
Solution 1. The client required a machine to produce large products. We customized the machine, but the products shrank after pressing. Finally, we adjusted the ingredient ratio to figure out the problem.
ANKO's PP-2 standard version can produce products with a diameter of 200mm that is the maximum size, but the client required to increase to 240mm in diameter. We not only increased the size of pressing plates and the whole machine body, but also strengthened the pneumatic system and other components. During test, products seriously shrank after pressing, even though they were pressed twice. In the end, ...(Please contact us to get more information)
Food Equipment Introduction
Place dough in the fixed position.
Upper and lower film wraps dough.
Film conveyor regularly moves forward a set distance.
First pressing process.
Second pressing process.
Cut off film.
Stack final products in a pile as the setup number and deliver to packaging conveyor.
Paratha stacking conveyor - The number of a pack can be set via control panel. After filming paratha, the piles of paratha will be automatic delivered to packaging conveyor.
To press twice aims to ensure product quality and increase productive efficiency
Every manufacturer has own paratha recipe so that the stress in dough may be slightly different. If we make paratha by hand, the stress will be reduced through the repetition of rolling or flapping the dough. However, the stress will not reduce if the machine presses dough in one-way direction, which causes dough shrinkage. In order to maintain the same size, ANKO team designed two rows of pressing devices. The first row presses dough into the required size. The continuous press is to prevent dough shrinking. Although to extend pressing time or to strengthen pressing power is available, the former will decrease manufacturing capacity and the later will shorten the life of components such as air cylinder. The idea of twice pressing processes is to avoid these potential problems happening.
Pneumatic system or motor system
For clients' convenience, ANKO apply pneumatic system to drive the pressing device, instead of motor-driven system. The reasons are that, first, pneumatic components are easy to acquire; second, pneumatic system can reduce the risk of contaminating food by oil and gas. And the rest reasons include space-saving and cost-saving. Furthermore, pneumatic system requires less power, compare to motor-driven system.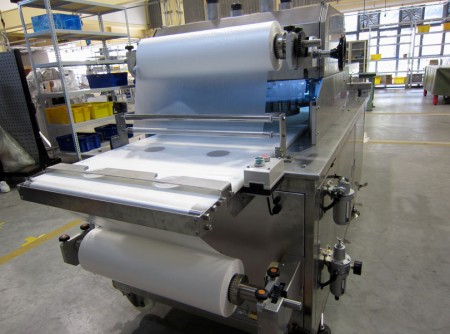 Tension adjustor for the smoothness of film
The film conveying device equips two sets of film pusher. Film pusher A clips and conveys film to film pusher B. Then, film pusher A loosens and returns to its original position while film pusher B clips. The action repeats to push film. However, because the film roll becomes lighter, the film will be pulled too much if the machine acts as usual. ANKO's engineer designed a device to increase the film roll's resistance against the inertia. The measure prevents wrapping film wrinkling up.
Machines

PP-2

Automatic filming and pressing machine is flexible to press products with different thicknesses and sizes as required. After cutting into dough balls (or cylindrical dough, square dough), PP-2 will automatically film and press products to prevent dough sticking together. Chinese pancake, paratha, green-scallion pie and the like are suitable for the machine. For the client's convenience, the number of final products in a pile is adjustable to reduce labor cost and prevent mistakes from manual counting.

Video

The process of pressing square dough - Instead of dough balls, square dough is able to be pressed into roughly circular shape. Neither does the client has to spend time kneading dough, nor buy a rounding conveyor. It saves time and money.

Automatic Filming and Pressing Machine - Paratha stacking conveyor - The number of a pack can be set via control panel. After filming paratha, the piles of paratha will be automatic delivered to packaging conveyor.

The inspection of the customized large filming and pressing machine - Use ANKO's filming and pressing machine to produce large paratha. Wrap dough with film to avoid sticking together, and then stack up in a pile.

Country

United Arab Emirates Ethnic Food Machine And Food Processing Equipment Solutions

---

Our food equipment solutions for clients from over 108 countries. You can click on the following categories to view cases. Each case shows how ANKO conducts food machine solutions - from the beginning of ingredient preparation, machine design and manufacture, troubleshooting and after service.

---

---

Solution Area

Category

---

Downloads

---
Menu
Recommandation
ANKO Paratha Equipment Solutions
ANKO FOOD MACHINE CO., LTD. is a food making machine manufacturer and a food production solution supplier. We've been offering professional food equipment since 1978. With years of experience in the food machine market, ANKO makes sure that our food equipment meets customers' demands.
Food Processing Equipment Solutions
View our new food processing machine and turnkey solutions