---
ANKO Har Gao Making Machine – Machinery Design for Hong Kong Company
The client begins business by manufacturing seasoning. Up to now, the company has been established for more than one hundred years, providing delicious, health, and safety food to gourmets. Since their dim sum products are on the market in 1990, they have applied ANKO's stir fryers (SF Series), dumpling making machines (HLT-700 Series), spring roll production line (SR-24), semi-automatic spring roll production line (SRPF Series) to produce and sale frozen foods, including Chinese fried rice/noodle and various kinds of dim sum, in many countries. With the growth of demands, the supply of har gao, made by hand, was unable to meet a large number of orders. This client still purchased an automatic dumpling machine with har gao forming device from ANKO because they believe in our machine quality, which achieves the client's ideas with regard to strictly maintaining sanitary environment, controlling every production process, and providing the safest food to consumers.
Case-ID: HK-003
Hargao, Shrimp dumpling
Food Ingredient
For wrapper
Wheat Starch
Potato Starch
Hot Water
For filling
Shrimp
Bamboo Shoots
Ground Pork Fatback
Scallions
Salt
Stock Powder
Sugar
Sesame Oil
White Pepper
Food Culture
Har gao is beloved of most consumers as having dim sum in tea restaurants or Cantonese restaurants. Translucent wrapper made of wheat starch wraps up chopped shrimp and minced pork fatback. Also, due to its clear, bright pleated skin, some people name har gao crystal dumpling. Fresh shrimp, elastic wrapper, and juicy stuffing, the relish of hargao satisfies people's gustatory sense. Sometimes, a mouthful of har gao with a whole shrimp is even more surprising. Soy sauce is the most common dip, but some gourmands taste with shredded ginger like the way of tasting mini juicy buns.
Handmade Food Recipe
Ⅰ. For filling
Heat oil in a wok.
Sauté chopped scallions until aromatic, and then fry ground pork fatback together.
Set aside.
Chop shrimp and bamboo shoot.
Season and stir chopped shrimp and bamboo with salt, white pepper, sugar, stock powder, and sesame oil until viscous.
Ⅱ. For wrapper
Mix wheat starch and potato starch together.
Pour in hot water and stir them again.
Cool it for a while, and then knead it into smooth dough. While kneading, add a little potato starch.
Roll the dough into a cylinder.
Cut off several dough balls around 6 g. Cover the rest of dough with cling film to avoid it drying out.
Apply a cleaver. Use the flat side to press dough ball into a circle. A half of circle can be thicker than the other half side as the bottom of har gao.
Ⅲ.
Scoop filling to put on the center of wrapper.
Fold it up, and then pleat the edge to make patterns, around nine to twelve pleats for each.
Steam har gaos for four to five minutes with high heat.
ANKO Team Research Problem Solving or Solution Delivery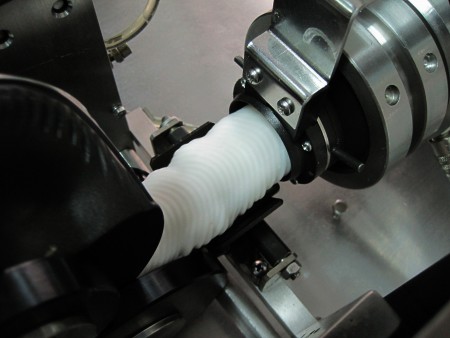 What parts should be refitted to a customized larger forming mold?
The client ordered a larger mold for making 36-gram har gao. When inspection, the standard pleating kit made unexpected marks on har gao wrapper. Therefore, the pleating kit should be refitted as well to produce beautiful pleats on har gao in customized size.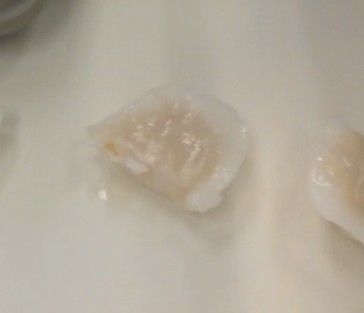 What the reasons lead to breaks on the bottom of har gao?
The ingredients of har gao wrapper and dumpling wrapper are different from each other. When the stuffed dough roll extruded out, har gao wrappers would break because of the friction between har gao wrappers and the guide plate prior to the rotary mold, whereas smooth dumpling wrapper was intact. In order to solve the problem, ANKO's engineers designed...(Please contact us to get more information)
Then, the characteristic of har gao dough would become softer if it is stirred too long in a mixer. As putting it in dough hopper, har gao dough is stirred again. As a result, in this case, it was the reason that the har gao dough became too soft and viscous. Therefore, to shorten the stirring process is able to improve the quality of final products.
Food Equipment Introduction
Put stuffing in stuffing hopper
Put dough in dough hopper
Stuffing is formed into a cylinder through feeding pipe.
Dough is formed into a tube through dough pipe.
While stuffing and dough are formed, stuff is extruded into dough pipe.
Make pleats by har gao forming device.
Through rotary mold, form every piece of har gao as required.
Remove har gao from mold by scraper.
The final products line on conveyor for following packing or cooking process.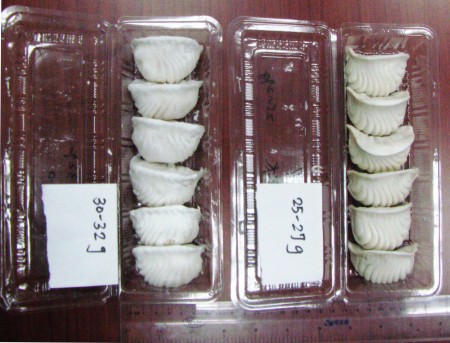 Fundamentals of Har gao Processing Design
The har gao making machine is the combination of the HLT-700 series and har gao forming device. The iconic pleated skin is the reason that we re-design dough pipe for pleating, but the production process is as same as HLT-700 Series. The standard size of har gao made by our machine is between 20g to 30g. However, like the flexibility of HLT-700 Series, hargao forming device can be customized for making various sizes to meet individual requirements. For example, we customized a mold for making 40-gram har gao for a client.
Processing Line Planning
Sieving
Mixing
Vegetable Cleaning
Vegetable Cutting
Extracting
Meat Mincing
Seasoning
Forming
Sealing
Machines

HLT-700 Series with Har gao Forming Device

HLT-700 series with Har gao Forming Device extrudes dough tube with filling stuffed. Moreover, through our innovative hargao forming device, the typical pleats of har gao are forming while dough and filling are extruded. Then, the stuffed roll will be pressed by a rotary mold to form beautiful har gaos. There are three standard molds for producing 20g, 25g, or 30g har gao. Also, the forming mold is available to customize different shapes.

Video

After putting in dough, the machine continues operating automatically until the packing process. ANKO's Har Gao Forming Machine is the best choice for you to reduce labor cost.

Photo Gallery

Country

Hong Kong Ethnic Food Machine And Food Processing Equipment Solutions

---

Our food equipment solutions for clients from over 108 countries. You can click on the following categories to view cases. Each case shows how ANKO conducts food machine solutions - from the beginning of ingredient preparation, machine design and manufacture, troubleshooting and after service.

---

---

Solution Area

Category

---

Downloads

---
Menu
Recommandation
ANKO Hargao, Shrimp dumpling Equipment Solutions
ANKO FOOD MACHINE CO., LTD. is a food making machine manufacturer and a food production solution supplier. We've been offering professional food equipment since 1978. With years of experience in the food machine market, ANKO makes sure that our food equipment meets customers' demands.
Food Processing Equipment Solutions
View our new food processing machine and turnkey solutions