---
Multipurpose Filling & Forming Machine - Machinery Design for Tunisian Company
The client is an owner of a hotel chain in Tunisia. Speaking of cooking, their insistence on food has gained favor with visitors and got great comments on some travel websites. The calzone, both its recipe and ingredients, is handmade by their chef. As spending holidays in the hotel, tourists can buy a portable calzone at a concession stand and enjoy it as leisurely walking around. Due to the widespread reputation of the dish, they decided to buy a machine to meet the growing demand or the future launch of new menu in their restaurants. Then, the gourmet calzones could be produced in their central kitchen and distributed to each restaurant, which not only maintains product quality, but also cuts the labor cost.
Case-ID: TN-001
Calzone
Food Ingredient
For wrapper
Strong Flour
Salt
Warm Water
Yeast
Sugar
Oil
For filling
Oil
Mushrooms
Garlic
Fresh Thyme
Unsalted Butter
Ground Black Pepper
Tomato Sauce
Spinach
Mozzarella Cheese
Salami
Ham
Food Culture
Calzone, or pizza pocket, is often served in Italian restaurants, also a popular dish in North Africa and Middle East. The name calzone derives from "calze", meaning stocking. It is a kind of portable stuffed bread with a half-moon shape. Generally, calzone is stuffed with minced meat, vegetable, cheese, and tomato and mushroom calzone is optional for vegetarian. Final product weighs between 150 g to 250 g to keep you feeling satisfied.
Handmade Food Recipe
Ⅰ. For wrapper
Mix flour and salt in a bowl
Add warm water, yeast, sugar, and oil in the bowl, stir them until dough forms.
Cover with a damp towel and rest for 1 hour in a warm place.
Ⅱ. For filling
Chop mushrooms and slice garlic.
Heat oil in a skillet.
Add mushrooms, garlic, and thyme in; fry them until mushrooms are softened.
Add butter and then season with salt and pepper.
Add tomato sauce and spinach, cook about 3 minutes.
Ⅲ.
Portion out the dough into equal size dough balls.
Roll out into circles, about 1/8 inch thick and 12 inches in diameter.
Place spinach and mushroom mixture in the lower half of the dough, but leave the edge about 1-1.5 cm for folding.
Top with slices of salami and ham.
Top mixture with mozzarella cheese.
Fold dough in half over filling.
Seal and crimp the edge.
Bake calzones until golden brown.
ANKO Team Research Problem Solving or Solution Delivery
Calzone stuffing is too dry to be extruded.
The client fried stuffing in advance, as a result, the stuffing became too dry to be extruded smoothly. In this case, we asked the client ...(Please contact us to get more information)
Food Equipment Introduction
Put well-mixed stuffing in stuffing hopper.
Put well-kneaded dough in dough hopper.
Stuffing is extruded into a cylinder through stuffing pipe.
Dough is extruded into a tube through dough pipe.
While both cylindrical stuffing and dough tube are formed, stuffing is extruded into the dough tube.
With the pressure of rotary mold, the stuffed dough tube is formed into the food shape as required.
The use of scraper helps release food products from the mold.
Arrange finished products on conveyor for the sequential baking process.
In the production of calzone, controlling the dough temperature properly can ensure the stable production.
The temperature increases while machine presses dough, which may lead to too soft and sticky dough. ANKO's HLT-series machine is equipped with a cooling system to maintain dough pipe in a certain temperature to guarantee the best taste. The cooling system is considerately designed a light to remind workers to refill iced water, helping to save checking time.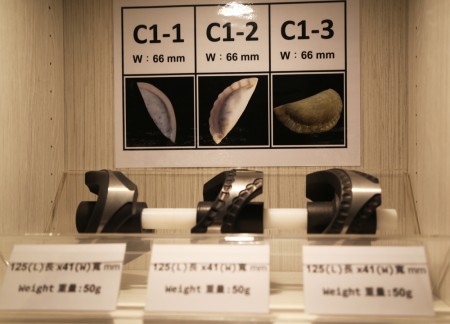 The design basics of custom mold
ANKO's Multipurpose Filling & Forming Machine facilitates great product variety through changeable mold. Due to a huge demand for customization, our engineers continue enhancing the ability of mold design. In terms of rotary mold, the pattern is carved along the rims of hollow parts. With its pressure as rotating, dough is squeezed into hollow parts and formed.
Processing Line Planning
Sieving
Mixing
Vegetable Cleaning
Vegetable Cutting
Extracting
Meat Mincing
Seasoning
Forming
Sealing
Machines

Video

ANKO's HLT-700XL is a kind of dumpling making machine. It has four independent motors to produce a wide range of food products with a dough wrapper and stuffing inside. By simply changing the forming molds, HLT-700XL can also become different food processing machines as hargau machine, samosa machine, ravioli machine, pasta machine, pierogi machine, pelemeni machine, calzone machine, empanada machine, etc.

Country

Tunisia Ethnic Food Machine And Food Processing Equipment Solutions

---

Our food equipment solutions for clients from over 108 countries. You can click on the following categories to view cases. Each case shows how ANKO conducts food machine solutions - from the beginning of ingredient preparation, machine design and manufacture, troubleshooting and after service.

---

---

Solution Area

Category

---

Downloads

---
Menu
Recommandation
ANKO Calzone Equipment Solutions
ANKO FOOD MACHINE CO., LTD. is a food making machine manufacturer and a food production solution supplier. We've been offering professional food equipment since 1978. With years of experience in the food machine market, ANKO makes sure that our food equipment meets customers' demands.
Food Processing Equipment Solutions
View our new food processing machine and turnkey solutions