---
ANKO Automatic Shumai Production Line-Machinery Design for an Indonesian Company
Siomay
Food Ingredient
All Purpose Flour
Water
Egg
Minced Chicken
King Mackerel Fish Paste (Or Featherback Fish Paste )
Salt
White Pepper
Spring Onion
Sesame Oil
Tapioca
Food Culture
You will never miss out siomay, if you eat yum cha. Siomay is made of pork stuffing and wrapped by dough sheet as cylinder with the top open. People usually steam them before eating. In Indonesia, the majority of populations are Muslims, as a result, chicken and fish are common ingredients for making siomay. As for dips, spicy peanut sauce or sweet soy sauce is usually served with siomay.
Handmade Food Recipe
Siomay wrapper: Add all-purpose flour in a mixing bowl and make a hole in the center. Whisk egg and pour into the hole of flour. Gently mix egg and flour together from the center until they become a dough ball. Knead the dough ball by hand until it's smooth. Use cling wrap to wrap the dough ball and rest for 30 minutes.
Stuffing: Mix minced chicken, fish paste, spring onion, and sesame oil in a mixing bowl. Season with salt and white pepper. Add tapioca starch and mix well.
Take out the dough ball and roll it as thin as possible.
Cut the dough belt into small pieces, circle or square.
Scoop a spoon of mixed stuffing in the middle of siomay wrapper.
Then, wrap the stuffing as cylinder, but leave the top open.
Steam finished siomay for 10-15 minutes.
ANKO Team Research Problem Solving or Solution Delivery
Solution 1. Why were some wrappers broken in the process?
Operator's hands were stained with ...(Please contact us to get more information)
Solution 2. Why were some wrappers broken in the process?
The dough for making siomay wrappers has less moisture so that using a ...(Please contact us to get more information)
Food Equipment Introduction
Stir flour into cotton-like tiny particles and pour into dough hopper.
Pour prepared stuffing into filling hopper.
Start automatic process.
Flatten dough.
Pull and fix dough belt in position with tongs and cut it into desired size (60-70mm).
Press wrapper into forming mold.
Feed stuffing.
Slightly compact the top of siomay to make more folds on wrapper and make wrapper and stuffing denser.
Push the finished products onto conveyor belt.
Fundamental of Design
The thickness of dough belt is able to modify within 0.4mm-0.5mm.
The amount of stuffing feeding is able to modify as you prefer to satisfy different customers
If required, a granule feeding device can be added to decorate siomay with beans, crab eggs or yolks.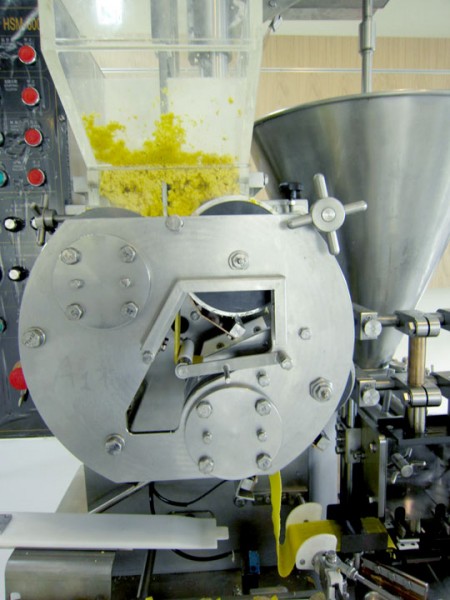 Fundamental of Design -Automatic Siomay Machine
Anko has been concerned with the taste of products made by our machine. Siomay wrappers shall be thin enough but not be broken after cooking; shall be thick enough to be pressed and formed but not taste doughy. Appearance is also important. How to make folds by machine as beautiful as those by hand? The key is that Anko engineers design a special mechanism to imitate handmade texture. Last but not least, from dough belt pressing, every step of making siomay includes in a machinery, which is a design to meet the requirement of saving space.
Machines

HSM-600

Simply preparing dough and stuffing, the steps of pressing dough belt, cutting, feeding, and forming complete with an automatic siomay processing machine. Finished products are arranged in a line, which is more convenient for packing or cooking in sequence for sales of frozen food. Moreover, HSM-600 feeding system is capable of feeding stuffings in different textures, including chicken, fish, beef, pork; the client is an example, using HSM-600 to produce chicken siomay.

Video

The process of pushing, lining, and conveying - Via pushing device, Siomay is lined up on the conveyor, easy for packaging and freezing.

Country

Indonesia Ethnic Food Machine And Food Processing Equipment Solutions

---

Our food equipment solutions for clients from over 108 countries. You can click on the following categories to view cases. Each case shows how ANKO conducts food machine solutions - from the beginning of ingredient preparation, machine design and manufacture, troubleshooting and after service.

---

---

Solution Area

Category

---

Downloads

---
Recommandation
ANKO Siomay Equipment Solutions
ANKO FOOD MACHINE CO., LTD. is a food making machine manufacturer and a food production solution supplier. We've been offering professional food equipment since 1978. With years of experience in the food machine market, ANKO makes sure that our food equipment meets customers' demands.
Our products include automatic encrusting and forming machine, multipurpose filling and forming machine, automatic spring roll pastry and samosa pastry machine, automatic shumai machine, and spring roll production line. Please feel free to
Contact Us
.
Food Processing Equipment Solutions
View our new food processing machine and turnkey solutions