---
ANKO Double Line Shumai Production Line – Machinery Design for Mauritian Company
The client has a central kitchen to produce and sell shumai to retailers and takeaways. The growing demand and labor costs prompted him to find an automation solution. Through his friend's introduction, he knew that ANKO is a professional food machine manufacturer. When he visited us for machine test, we used radish shreds in substitution for cassava shreds because cassava is not common in Taiwan. It's also an unprecedented attempt for us. Finally, we were glad to succeed in producing radish shumai by our shumai machine and earned recognition from the client.
Case-ID: MU-001
Shu mai
Food Ingredient
For wrapper
All Purpose Flour
Salt
Water
For stuffing
Cassava Flour
Cassava Shreds
Food Culture
One of iconic dishes in Cantonese dim sum culture is shumai. That is usually made of pork and wrapped up with a dough wrap, shaped into a top open cylinder and garnished with a pea or crab roe. Some people replace dough wraps with dried seaweed to make seaweed shumai. The client living in Mauritius is a Mauritian of Chinese origin. He would like to make the typical dim sum not with pork but with cassava which is easy to get in local. Unlike pork shumai, cassava shumai is non-greasy and has a taste of cassava fiber, making a refreshing change.
Handmade Food Recipe
For wrapper
Mix all purpose flour, salt, water in a large bowl.
Knead them into a chunk of elastic and smooth dough.
Cover with a wet cloth and rest for 1-2 hours.
For stuffing
Shred cassava into 2 mm strips
Mix cassava shreds and cassava flour together.
Roll the dough into cylinder by hand.
Equally portion out the dough.
Apply a rolling pin to roll out each dough balls.
Cut out square shumai wrappers.
Put a scoop of stuffing on a wrapper.
Squeeze the wrapper around to form it into cylinder and leave the top open.
Steam shumai for about 5-10 minutes.
ANKO Team Research Problem Solving or Solution Delivery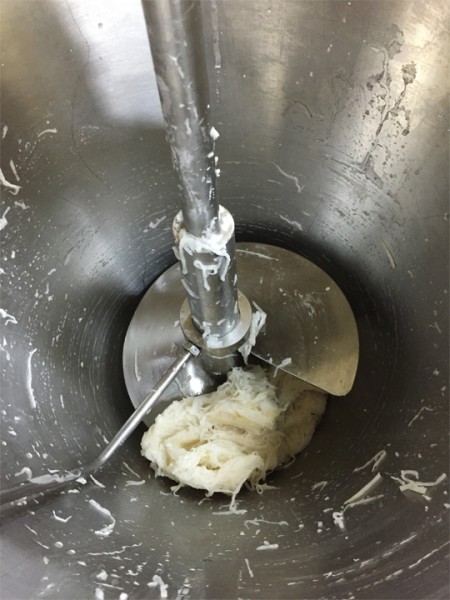 No fat in radish shreds shumai leads to unsmooth extrusion.
The design of shumai machine was based on the production of popular vegetable and meat mixture shumai. The meat fat functions as lubricant in the process. ANKO team replaced cassava shreds with radish shreds and cassava flour to test. It turns out that dry stuffing impeded machine extrusion. After discussion with the client, ...(Please contact us to get more information)
Food Equipment Introduction
Stir flour into fluffy particles, and then pour into dough hopper.
Cut out radish into 2 mm thick shreds.
After draining radish shreds, add them and cassava flour into a mixer. Pour well-mixed stuffing into stuffing hopper.
Start the automatic production.
Press fluffy dough into a dough belt.
Tong and cut dough belt into wrappers (60-70 mm) as required.
Punch wrappers into cylinder molds.
Extrude stuffing in wrappers
Clip the top of cylinder to pleat around wrappers and wrap stuffing tightly.
Push shumai onto conveyor.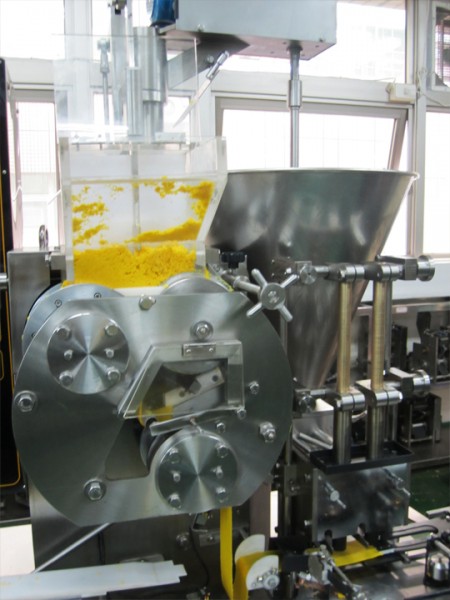 The secret to manufacturing shumai like handmade.
Dough for making shumai wrappers contains less water and high gluten. These dough characteristics affect the possibility of dough belt breakage. Unlike other shumai machines, ANKO's shumai machine can be modified to press different thickness of dough belt. Moreover, how the extruder works with different production rates of dough belt is also influenced by many factors. Any neglect may ruin everything, which is the distinction between machine and human. Therefore, the innovative design of sensor can detect the position of dough wrapper for flexible adjustment to imitate humanlike sensitivity and create high efficiency.
Machines

ACD-800

The multipurpose vegetable cutting machine can be equipped with different blades according to individual requirement. Having one machine can deliver different types of cuts, including shredding, dicing, and slicing. The length of final products is also adjustable through the customized adjustment. In this case, the machine is utilized to cut radish into 2 mm thick and 7 cm long shreds. The minimum capacity is 200 kg of vegetables which can be processed within one hour. In short, ACD-800 is an efficient and multipurpose cutting machine.

HSM-600

The user only has to stir the wheat flour into fluffy dough and pour dough and stuffing into hoppers before turning on the automatic double line shumai machine. One machine can complete dough pressing, cutting, stuffing extruding, and shumai forming. The finished products are lined up on conveyor for the next packing, freezing, or cooking, which benefits the client's central kitchen business. Not only radish shreds we used for test, but also chicken, fish, beef, pork, shrimp paste, fish paste, etc. are able to be extruded by the machine extruder.

Video

ANKO Double Line Shumai Machine just requires two square meters of space. From dough pressing to finished products, users only have to pour ingredients into hoppers and pack products manually, which largely reduce labor costs. Moreover, the machine can produce 5,000-6,000 pieces per hour.

Country

Mauritius Ethnic Food Machine And Food Processing Equipment Solutions

---

Our food equipment solutions for clients from over 108 countries. You can click on the following categories to view cases. Each case shows how ANKO conducts food machine solutions - from the beginning of ingredient preparation, machine design and manufacture, troubleshooting and after service.

---

---

Solution Area

Category

---

Downloads

---
Recommandation
ANKO Shu mai Equipment Solutions
ANKO FOOD MACHINE CO., LTD. is a Taiwanese food processing equipment supplier and manufacturer. They've been offering professional food machinery in multipurpose filling and forming machine markets since 1978. With collected 38 years of experience, ANKO makes sure that their food machinery meets each customer's demands.
Our products include automatic encrusting, forming machine, automatic spring roll pastry and samosa pastry machine, automatic shu mai making machine, double line machine, automatic encrusting and forming machine, semi automatic spring roll and samosa machine. Please feel free to
Contact Us
.
Food Processing Equipment Solutions
View our new food processing machine and turnkey solutions