---
ANKO Automatic Dual Line Imitation Hand Made Dumpling Machine– Machinery Design for Spanish Company
The client, one of our old clients, purchased ANKO's Hargao Forming Machine and Fish Ball Machine. He not only is an OBM of frozen food products but also supply OEM service. In Spanish frozen food market, gyoza was rather new to locals. However, the client was brave expanding an all-new production line on the strength of the well-known brand he created. He hoped gyoza, a dish represents Japanese culture, could be served on the tables in Spain. In order to develop a complete new project, the choice of machine supplier shall be more careful. The client had a pleasant experience of cooperating with us so that he was confident that we were able to plan a whole production line, including machines for preparing ingredients and cooking products such as a steamer, etc. About the gyoza making machine, we recommended him AFD-888, it is with a closing mold device which can produce springier yet firm in taste and more delicate in appearance. The whole project was well prepared and ready to hit the market.
Case-ID: ES-002
Gyoza
Food Ingredient
For wrapper
All Purpose Flour
Water
Salt
For stuffing
Minced Pork
Cabbage
Green Scallion
Garlic
Ginger
Salt
Ground White Pepper
Sugar
Soy Sauce
Sesame Oil
Food Culture
Gyoza is dumpling, originating in China. Yaki gyoza is pan-fried gyoza; sui gyoza is boiled gyoza; age gyoza is deep-fried gyoza, they are common cooking methods of dumpling and taken with soy dipping sauce. As for filling, it's usually made with pork, leek, green scallion, cabbage, some spices like ginger and garlic. Typical Japanese restaurants such as ramen restaurants and izakaya absolutely have this dish on the menu. Even all prefectures in Japan have battled for the honor of top gyoza consumption.
Handmade Food Recipe
For wrapper
Add all purpose flour, some water, and salt in a large bowl, then stir them well.
Knead dough. In the process, add water little by little if needed until dough becomes smooth and elastic.
Cover with a wet cloth and rest for one hour.
Divide dough into four equal portions.
Roll out each dough ball as thin as possible.
Apply a round cutter to cut out gyoza wrappers.
For stuffing
Finely chop cabbage.
Sprinkle salt on chopped cabbage and rest for 15 minutes.
Drain cabbage in a strainer.
Mince fresh garlic and grate fresh ginger.
Add minced pork, garlic, ginger, green scallions and drained cabbage in a large bowl.
Season the mixture with ground white pepper, soy sauce, and sesame oil.
Keep kneading the mixture until viscous.
Spoon stuffing on the center of wrapper.
Pleat along one side to make the classic gyoza pleats.
Squeeze out excess air and tightly press the seam.
ANKO Team Research Problem Solving or Solution Delivery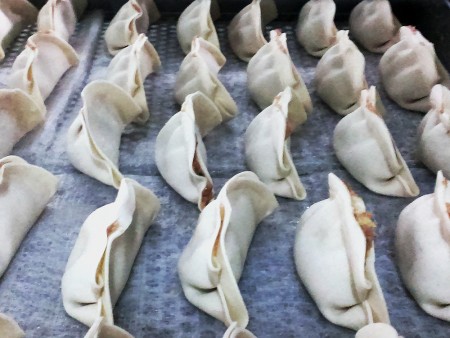 The stuffing was oily and damp so it flowed out too much through depositor. Even though the amount of stuffing for one time depositing was adjusted as small as possible, some finished products still burst.
ANKO's piston-type depositing unit can control a certain amount of stuffing by the piston position. However, non-drained cabbage and pork in the client's recipe would increase the percentage of moisture and fat that led to higher lubricity in the stuffing. In the process of depositing, the stuffing flew too fast and too much unexpectedly. There were two solutions:
1. Replacing with drained vegetables and reducing the percentage of pork. On one hand, the method might effectively solve the problem because of the reduction of fluids and fat. On the other hand, the client could save the cost of pork.
2. Customizing depositing nozzle. Due to the characteristics of the stuffing, the adjustment of piston position failed to avoid breakage. Therefore, ANKO customized a particular depositing nozzle and successfully achieved his requirement.
Food Equipment Introduction
Put stuffing into stuffing hopper.
Shift processed dough belt (approx. 1.2 cm) from ABS-220 to AFD-888.
Thin dough belt into around 1 mm by three sets of pressing roller and die cut gyoza wrappers.
Recycle waste dough; at the same time, gyoza wrappers are on the forming mold.
Piston-type depositing system deposits stuffing on the wrappers.
Fold and form the wrappers by a shell-like closing mold device.
Tightly press gyoza seams by the power of air cylinder.
Line up gyoza in double row for the next packing process.
As forming gyoza, air cylinder is the power source. In order to reduce abrasion, the PU pulley is used as a buffer.
AFD-888 is installed a closing mold device to wrap stuffing. Due to the fact that dough contains a certain degree of water to remain viscous, the seam is stuck by the pressure of the mold, instead of water. The pressure is produced by the air cylinder to tightly close both sides together.
It is worth mentioning that the PU pulleys with high hardness, good abrasion resistance, and high resilience not only help to generate the pressure driven by air cylinder, but also can absorb shock as a buffer to reduce abrasion during mold closing.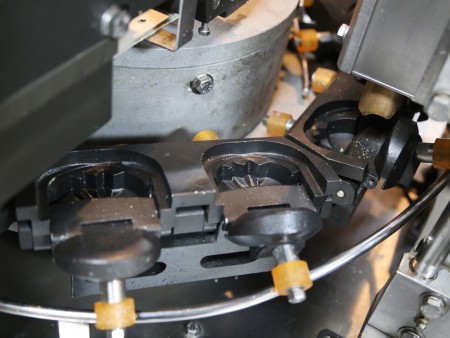 Non-circle gyoza wrapper shapes distinctive appearance.
The gyoza wrappers made by ANKO Automatic Dual Line Imitation Hand Made Dumpling Machine are cut into an innovative shape rather than a circle.
The nuanced difference achieves more attractive appearance with crimps and pleats. Our excellent team thinks of two-dimensional wrapper to three-dimensional food product, designing machine with ingenuity. Therefore, the look of finished gyoza product is one of the reasons that AFD-888 gains favor with people.

The secret to stabilizing dumpling on the conveyor is the buffer.
How to deliver gyozas on the conveyor stably? The critical design is about the angle and motion track of buffer. As pushing gyozas to the conveyor, the pusher goes straight. In the process, a buffer is needed to prevent gyozas from overturning. The angle of buffer is very important, which should be neither over oblique nor perpendicular to conveyor. Moreover, the buffer motion should synchronize with the pusher. It functions as an assistant without squeezing products. ANKO team gained this secret through many trials and errors.
Machines

ML-202E Spiral mixer

The mixer applies to mix dough, shortening, or food with water content below 75%. It has two-stage speed control. The design of two motors enables the stirring tank to rotate clockwise and counterclockwise, repeating actions such as kneading, rubbing, pinching, mixing, stirring, twisting, etc. Also, the mixer can shortly finish mixing max. 50 kg of flour at a time. In order to ensure safety and reduce dust, this model type is equipped with a safety cover to meet the CE standard.

ACD-800

The multipurpose vegetable cutting machine can be equipped with different blades according to individual requirements. Having one machine can deliver different types of cuts, including shredding, dicing, and slicing. The length of final products is also adjustable through the customized adjustment. In this case, the client utilizes the machine to cut cabbage, carrot, black fungus, and softened bean threads. The minimum capacity is 200 kg per hour. In short, ACD-800 is an efficient and multipurpose cutting machine.

ABS-220

ANKO's automatic dough belt machine allows rolling out dough belts ranging between 4-12mm in thickness.

Moreover, with addition equipment installed, it turns into dough skin processing equipment for noodles, egg roll wrappers, wonton wrappers, shumai wrappers, dumpling wrappers, etc.

AFD-888

AFD-888 is made of food grade materials, meeting the CE standard. The design of AFD-888 imitates hand gestures to produce gyozas. Even though dough belt is continuously pressed by rollers, the taste remains springy yet firm. After gyoza wrappers are cut, they are conveyed to be filled with stuffing by a distinctive depositing unit with piston-type system; meanwhile, a recycling system collects the rest of dough to avoid waste. Finally, the finished products are lined up on conveyor in double rows to be packed easier. The hourly productivity is up to 9,000 gyozas. As for gyoza weight, 18-20 g, 24-26 g, and 28-30 g are producible.

AS-610

The time-saving and labor-saving gas steamer can accommodate twelve pans. It only spends three minutes to boil water. A large amount of steam is evenly spread to every corner of the steamer without leaking to rapidly raise temperature which also prevents water from dropping. Water level controls monitor water level and refill water automatically. Cooking time and temperature are able to be preset.

Photo Gallery

Country

Spain Ethnic Food Machine And Food Processing Equipment Solutions

---

Our food equipment solutions for clients from over 108 countries. You can click on the following categories to view cases. Each case shows how ANKO conducts food machine solutions - from the beginning of ingredient preparation, machine design and manufacture, troubleshooting and after service.

---

---

Solution Area

Category

---

Downloads

---
Recommandation
ANKO Gyoza Equipment Solutions
ANKO FOOD MACHINE CO., LTD. is a Taiwanese food processing equipment supplier and manufacturer. They've been offering professional food machinery in multipurpose filling and forming machine markets since 1978. With collected 38 years of experience, ANKO makes sure that their food machinery meets each customer's demands.
Our products include automatic encrusting, forming machine, automatic spring roll pastry and samosa pastry machine, automatic shu mai making machine, double line machine, automatic encrusting and forming machine, semi automatic spring roll and samosa machine. Please feel free to
Contact Us
.
Food Processing Equipment Solutions
View our new food processing machine and turnkey solutions