---
ANKO Green Scallion Pie Production Line – Machinery Design for a Taiwanese Company
The client is a frozen food wholesaler. He would like to save labor cost and increase productivity. He found ANKO to seek the best solution.ANKO focuses on keeping handmade taste when a client transforms manual production into machine production.For example, the client has produced green scallion pie, which is complicated made by hand. When he tried to produce his products by machine, instead of by hand, one of the difficulties is that the machine cannot repeatedly roll dough into a circle. Therefore, we've made many efforts to eliminate this kind of differences between handmade process and machine-made process. (Note: LAP-2200 is no longer available. The updated model is LAP-5000. Please feel free to contact us for more information.)
Case-ID: TW-001
Green scallion pie
Food Ingredient
All Purpose Flour
Hot Water
Room Temperature Water
Lard
Green Scallion
Food Culture
Green scallion is a typical spice in oriental cuisine. Chinese is used to sauté green scallions until aromatic, and then add other ingredients to fry together. Chinese pie is also infused with such a familiar aroma. As its name implies, chopped green scallions are sprinkled on circular dough. To make layers, people will fold it several times and roll it into a circle as big as a palm again. When cooking, half cooked pie will be squeezed by spatulas to make layered flakes on top.

In Taiwanese food culture, egg is usually cooked with green scallion pie. Pour liquid egg into a fry pan, and then cover by cooked green scallion pie, meanwhile, the aroma releases into air. Thick soy sauce or pepper salt is the common seasoning.
Handmade Food Recipe
Add all purpose flour and warm water in a bowl and well stir them with chopsticks.
Add some room temperature water, and then knead them into smooth and elastic dough.
Cover with cling film and rest for 20 minutes.
Chop green scallions.
Divide dough into equal size small balls.
Apply a rolling pin to roll them into strips of dough.
Smear lard and sprinkle white pepper, salt, and julienne green scallions on dough.
Start rolling dough strip from one short end.
Upright rolled dough and press it.
Apply a rolling pin to roll it into a thin layer around 0.5cm thickness.
Heat a frying pan and add some oil.
Cook and keep flipping it until both sides are brown.
Serve with thick soy sauce.
ANKO Team Research Problem Solving or Solution Delivery
Solution 1. The dough, made by the client's recipe, is not completely cut by machine.
There is little different between green scallion pies made by different stores, but the little difference determines food taste and probably affects their businesses. ANKO understood that changing the client's unique recipe is the last step for machine production. We provide comprehensive inspection service and careful adjustment. For example, we followed the client's recipe to make dough in our kitchen and inspected the machine he ordered. Then, we found the dough was hard to cut off. Our qualified engineer applied two measures to figure out the problem, not even increased cost or changed his recipe.
1. To adjust conveyor ...(Please contact us to get more information)
Food Equipment Introduction
Put prepared dough into dough hopper.
Press dough into dough belt.
Continue sheeting into desired thickness.
Stretch dough belt toward the right and left.
Drop oil.
Sprinkle chopped green scallions.
Longitudinal cut dough belt into two strips.
Fold up dough wrapper to wrap up green scallions.
Drop oil.
Cut into required length.
Roll up.
Place on PP-1 filming and pressing machine.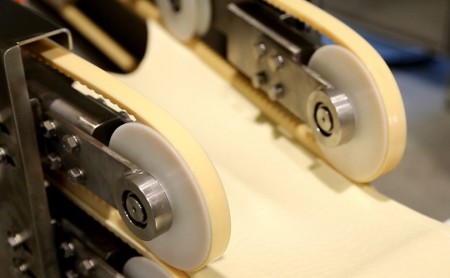 The sheet of dough is pervious to light. How to make it by machine?
Water and oil are usually added much more in green scallion pie dough. How to keep stretchability of dough was a challenge. Although pressing or sheeting is a way to make dough thinner, the gluten is weakened and not stretchy. LAP-2200 sheeting roller units press dough again and again until it becomes nearly 3mm thin dough belt. Then, the dough belt will be delivered to the stretching device, ...(Please contact us to get more information)
The ingenious design of folding device.
The dough character of green scallion pie is oily and thin. It easily wrinkles up as folding. As a result, double line rollers, twelve pieces in total, are designed to ...(Please contact us to get more information)
Machines

LAP-2200

The advantage of LAP-2200 is to evenly stretch a sheet of dough. As long as the dough structure doesn't deform, the thinness of dough can be nearly pervious to light. For making green scallion pie, sprinkling green scallions and dropping oil are keys to the delicacy, so LAP-2200 equips with automated sprinkling and dropping units for saving time and labor cost. The maximum productivity is 2200 pieces per hour (as a product weighs 70g) and the product size is adjustable depending on the time setting of cutter. (Note: LAP-2200 is no longer available. The updated model is LAP-5000. Please feel free to contact us for more information.)

PP-1

The Automatic Filming and Pressing machine is capable of pressing dough into required size and thickness. Every dough product is covered with plastic film on top and bottom to avoid sticking together. With the conveyor and number setting, a certain number of final products will be stacked up in a pile and ready to be packed.

Video

Lacha Paratha & Green Scallion Pie Production Line (Note: LAP-2200 is no longer available. The updated model is LAP-5000. Please feel free to contact us for more information.)

Country

Taiwan Ethnic Food Machine And Food Processing Equipment Solutions

---

Our food equipment solutions for clients from over 108 countries. You can click on the following categories to view cases. Each case shows how ANKO conducts food machine solutions - from the beginning of ingredient preparation, machine design and manufacture, troubleshooting and after service.

---

---

Solution Area

Category

---

Downloads

---
Recommandation
ANKO Green scallion pie Equipment Solutions
ANKO FOOD MACHINE CO., LTD. is a food making machine manufacturer and a food production solution supplier. We've been offering professional food equipment since 1978. With years of experience in the food machine market, ANKO makes sure that our food equipment meets customers' demands.
Our products include automatic encrusting and forming machine, multipurpose filling and forming machine, automatic spring roll pastry and samosa pastry machine, automatic shumai machine, and spring roll production line. Please feel free to
Contact Us
.
Food Processing Equipment Solutions
View our new food processing machine and turnkey solutions