---
Cheese Spring Roll Automatic Equipment Designed with a Customized Filling Mold
The company's cheese roll features its thin pastry made of batter. Compare to Chinese spring roll, they are quite similar in the handmade production and crispy taste. This cooperation is not the first time. The client had bought our other machine types and was satisfied with their quality and productivity. This time, through our customized services and trials, we followed his recipe and successively produced cheese rolls via our cheese spring roll production line. Therefore, he still purchased our machine without hesitation to meet growing demands.
Case-ID: LB-001
Cheese Roll
Food Ingredient
All Purpose Flour
Oil
Water
Salt
Cheese
Food Culture
The most common recipe for cheese roll is to put cheese, ham, sweet corn, onion on a slice of flattered bread, roll up, coat with breadcrumbs, and then deep fry it. Due to the convenience of its preparation and preservation, this dish is very popular at a party and family gathering or as a snack when children come home after school. In this case, the cheese roll pastry is made of batter and deep fried to create a crispy taste. Ketchup and chili sauce are typical dips.
Handmade Food Recipe
Add all purpose flour, oil, salt in a bowl.
Add water and knead them into pliable and smooth dough.
Cut into equal portions of dough balls
Roll out each dough ball.
Put a chunk of cheese on pastry close to an edge.
Wrap up cheese from the edge to a half.
Fold the left and right sides toward center.
Smear water on the opposite edge.
Keep rolling up and stick the ends.
Deep fry until golden brown.
ANKO Team Research Problem Solving or Solution Delivery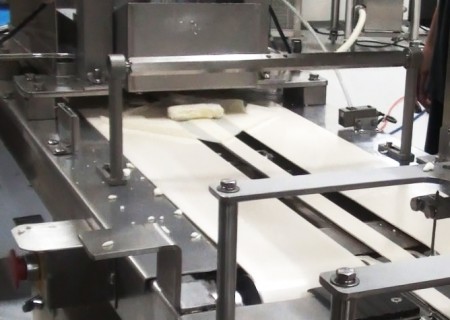 In order to tailor to the client's requirement, we customized a filling mold.
The client requested that the final product should be within 30 g that was 10 g less than the standard size (40 g). Firstly, ANKO engineer downsized pastry and decreased an amount of filling for each cheese roll. However, an unchanged filling mold with a less amount of filling resulted in a loose lump of cheese and the instability of depositing position. Therefore, we customized...(Please contact us to get more information)
Food Equipment Introduction
Pour cheese filling into filling hopper
Pour well-stirred batter into batter tank.
Adjust settings on the control panel and make sure the temperature and condition of baking drum.
Bake batter into a belt of pastry.
Cool them by fans.
Cut into 190 mm square pastry
Turn cut pastry in position, ready to be fed with cheese.
Feed filling: locate cheese on a set place.
Fold pastry: fold the first corner to the center to cover the filling, and then seal the filling by left and right side flappers.
Apply glue: apply batter on the last corner as glue.
Roll up: roll up toward the last corner, at the same time, seal the end.
The patented design of pastry tuning device minimize the required space for the machine production.
If you saw the process of rolling up spring roll, you would know that turning a corner of pastry toward yourself is smoother to roll it up. Then, how should we do to imitate the hand gesture? In the past, we would place two conveyors in different directions to cause a turn, but the installation occupied too much space. Also, the speed and height differences might lower yields. Therefore, thinking in reverse, ANKO designed a new lifting and turning device. Use the vertical space to lift pastry, clip and turn it, then put it down. That largely saves the machine required space and increases yields. We also successively have got a Taiwan patent on the device, No. M457429.
Machines

SR-24

Well-stirred batter is spread on a big baking drum to be baked into cheese roll pastry, its thickness is adjustable and hardness is controlled by the baking drum temperature. A belt of hot pastry is cooled down immediately and cut out pieces of pastry. They are continuously conveyed to a depositor.

Then, it is the time to pour prepared cheese into filling hopper. Due to the fact that cheese must be kept at a certain temperature, we installed a customized hopper with double layer, the outside layer is connected to a cooling machine to keep cheese at 4℃ constantly.

Not only can the thickness and hardness of cheese roll be changed, but its weight is also adjustable. The ease change of parts enables the machine to produce products with different weights. Afterwards, the filling will be exactly deposited via a sensor detection system. For wrapping up, a folding device folds three corners of pastry, a dropping device drips batter as glue, finally, a stainless steel net is used for rolling up cheese rolls. 2,400 rolls can be manufactured in one hour.

Video

Fully automatic cheese spring roll making machine can produce rolls with different flavors, including vegetable and meat filling, vegetable filling, cheese filling, meat filling, shrimp filling, etc. It is extensively applied to the production of various ethnic foods.

Photo Gallery

Country

Lebanon Ethnic Food Machine And Food Processing Equipment Solutions

---

Our food equipment solutions for clients from over 108 countries. You can click on the following categories to view cases. Each case shows how ANKO conducts food machine solutions - from the beginning of ingredient preparation, machine design and manufacture, troubleshooting and after service.

---

---

Solution Area

Category

---

Downloads

---
Menu
Recommandation
ANKO Cheese Roll Equipment Solutions
ANKO FOOD MACHINE CO., LTD. is a food making machine manufacturer and a food production solution supplier. We've been offering professional food equipment since 1978. With years of experience in the food machine market, ANKO makes sure that our food equipment meets customers' demands.
Our products include automatic encrusting and forming machine, multipurpose filling and forming machine, automatic spring roll pastry and samosa pastry machine, automatic shumai machine, and spring roll production line. Please feel free to
Contact Us
.
Food Processing Equipment Solutions
View our new food processing machine and turnkey solutions