---
ANKO's SR-27 Spring Roll Production Line – Designed for High Volume Spring Roll Producers
An ANKO client is from the Philippines had a Spring Roll factory before moving to the USA. After relocating to the USA, this client started another production operation with semi-automatic Spring Roll machines and began to sell their products. With increasing sales and market demand, this client approached ANKO for assistance with building a production line that could meet their increased production requirements. After rigorous communication, ANKO's R&D team developed the SR-27 Automatic Spring Roll Production Line which has a capacity of producing 2,700 pieces per hour, and a newly designed filling system that can process a wide variety of ingredients. Toward the final stages of this project, ANKO offered remote product testing and virtual meetings to ensure the client was satisfied with the results. This client was very pleased with ANKO's automated food machine, customized consultation services, and the increased production volume.
Case-ID: US-007
Spring Roll (Lumpia)
ANKO Team Research Problem Solving or Solution Delivery
Solution 1. An Upgrade to camshaft design that simulates a hand folding Spring Roll production process
Automated Spring Roll machines usually use an air pump or camshafts to fold the wrappers and form Spring Rolls. The air pump design requires an additional air filter and pressure system that can only use soft and light-weight wrappers to make Spring Rolls which often do not deep-fry well. ANKO's SR-27 Spring Roll Production Line uses camshafts which only requires a basic air pressure system and simulates hand folding techniques ensuring the repetitive folding process is smooth and stable. This design is more stable and can process wrappers with different textures to make Spring Rolls that are extra crispy after deep-frying.
Solution 2. Designed to produce 100% vegetable filled Spring Rolls and more
Recently, more consumers are requesting healthy, plant-based Spring Rolls that are light and delicious. ANKO understood this market demand and developed our SR-27 Automatic Spring Roll Production Line. This machine is capable of processing ingredients such as chopped cabbage, bean sprouts, and mixed vegetables such as: wood ears, mushrooms, sun-dried bamboo shoots, carrots, and other vegetarian ingredients. After multiple production tests, ANKO created an extruding system that can prevent vegetable filling from falling apart during the folding process; and it uses a special mixer in the filling hopper which returns excess filling back to the hopper without over pressing it. There is also a drainage system designed to remove liquid from the filling mixture to maintain perfect product texture.
Solution 3. Key to Successful Spring Roll products
Automated Spring Roll machines usually supply 3 types of commercial products: Frozen Spring Rolls, deep fried Spring Rolls and Fresh Spring Rolls (not fried) which consists of different product textures. Frozen Spring Rolls often burst after frying, and Fresh Spring Rolls need fillings that are less moist to prevent the product from being soggy. ANKO's SR-27 has a set of parameter settings with a simple design that can adjust Spring Roll textures. ANKO also offers integrated solutions to help you perfect your Spring Rolls production line.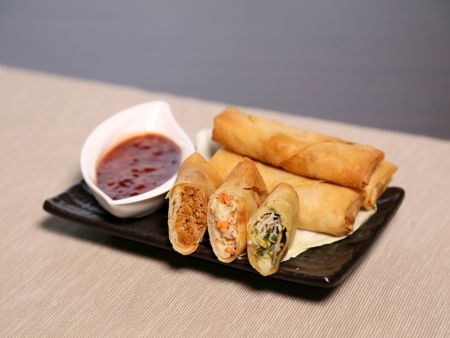 The texture and consistency of the Spring Rolls can be adjusted to meet different product requirements
Solution 4. User-friendly Design for Easy Spring Roll Production
Many automated Spring Roll machines require complicated parameter settings and professional staff training. ANKO's SR-27 is designed with a user-friendly touch panel that is easy to comprehend and operate, and can be upgraded with an IoT system for remote monitoring. The entire machine is water resistant and can be cleaned easily and quickly.
ANKO's SR-27 Automatic Spring Roll Production Line is designed with a baking drum that can bake batter into wrapper sheets. This machine then divides the wrappers, extrudes the filling on the perfect spot, and then wraps and rolls each product into perfectly formed Spring Rolls. It has a highly efficient capacity of producing 2,700 pieces of Spring Rolls per hour, and ANKO also provides equipment configuration services to help clients build a complete and fully automated Spring Roll production line.
Food Equipment Introduction
Load the hoppers with batter and filling ingredients
Bake the Spring Roll wrappers on the baking drum
Cooling the Spring Roll wrappers
Divide Spring Roll wrappers into desired sizes
Extrude filling ingredients onto the Spring Roll wrappers
Fold the wrapper over the filling ingredients
Forming Spring Rolls
Rolling the products firm
ANKO's SR-27 is designed to provide best Spring Roll production solutions
Most of the Spring Roll machines are semi-automated, which means limited production output. ANKO's SR-27 Automatic Spring Roll Production Line is fully automated and suitable for high volume producers; it only requires having the hoppers loaded with pre-mixed batter for the wrapper and filling ingredients, and the production can start with a simple switch. This machine has an extra-large filling hopper that can process 50 liters of filling at a time, resulting in a reduced need for frequent refills. ANKO's SR-27 is designed to process batters consisting of different types of flour to make wrappers into different thickness and textures. The settings can also be adjusted to produce various sizes of Spring Rolls for different market requirements.
Solution Proposal

One-stop High Quality Spring Roll Production Solution

ANKO did

With the newly launched SR-27 Spring Roll Production Line, ANKO's professional team can help you set up a highly efficient automated Spring Roll production line. It is suitable for large food factories, central kitchens, and high-volume manufacturers.

ANKO can help you more

ANKO's machines can produce perfect Spring Roll products based on your specific demand; and our professional consultants and engineers offer consultation services for the transitioning process from manual to automated food production.

If you are interested in ANKO's Spring Roll Production Solution, please click Learn More or complete the form below.

Machines

SR-27

ANKO's SR-27 Automatic Spring Roll Production Line takes only 1.4 seconds to produce a high-quality Spring Roll and, it requires minimum employees to operate. It is the most efficient machine for large food factories, central kitchens, and high-volume manufacturers. This machine has a 50 Liter filling hopper and a unique filling system that can process a variety of ingredients, such as pure vegetables, ground meats, bean sprouts and firm tofu, crab meat and cheese, and potato fillings, while keeping the original texture of different ingredients without over processing. Moreover, the new user-friendly touch screen control panel can be upgraded with an IoT system. This fully automated machine can produce Spring Rolls with measurements of 100mm in length, 25-32mm in radius, a product weight from 40-50g per piece, and the wrapper thickness can be regulated between 0.4-0.5 mm. We can also create customized Spring Roll products upon request. If you are interested in our SR-27 machine, please complete the form below.

Country

United States Ethnic Food Machine And Food Processing Equipment Solutions

---

Our food equipment solutions for clients from over 112 countries. You can click on the following categories to view cases. Each case shows how ANKO conducts food machine solutions - from the beginning of ingredient preparation, machine design and manufacture, troubleshooting and after service.

---

---

Category

---

Food Culture

Spring Rolls are a traditional Chinese snack food that made it onto the prestigious menu of the Manchu-Han Imperial Feast. According to historical document, Spring Rolls are usually made with a mix of meat and vegetable filling, then deep-fried until they are golden brown and crispy. These tasty Spring Rolls have made their way around the World, been localized, and have become a favorite dish in many different regions. In the Philippines, Spring Rolls are called "Lumpia", they are usually filled with ground pork or shrimp, deep-fried, and served with a sweet and spicy sauce. In Indonesia, these rolls are known as Lumpia Semarang and are filled with "rebung" (bamboo shoots), eggs, and various other ingredients. The Dutch have also introduced Spring Rolls to Europe and named them "Loempia"; they are usually filled with plenty vegetables. In the USA, "Egg Rolls" are made with thicker wrappers that consist of eggs, and after deep-frying, these rolls have air pockets are crispy and very delicious.

In Southeast Asian, Spring Rolls are often made sweet with bananas. In the Philippines, "Turon" is a deep-fried Spring Roll filled with bananas, sugar, and jackfruit. "Piscok" is an Indonesian creation that consists of sliced bananas and a chocolate sauce; there are also many "dessert Spring Rolls" served in restaurants that are often made with strawberries, apples, and cheeses. Recently, many air-fried and vegan Spring Roll recipes have been created for consumers that are health conscious. Moreover, Spring Rolls have become a popular frozen food item sold in wholesale warehouses, supermarkets, convenient stores and online shops; all catering to people who enjoy a quick and delicious snack.

Handmade Recipe

Food Ingredient

Spring Roll Wrapper-Flour/Salt/Water, Filling-Sliced pork/Bean sprouts/Firm tofu/Carrots/Dried mushrooms/ Leek/Cabbage/Vermicelli/Rice wine/Soy sauce/Ground White Pepper/Salt

Spring Roll Wrappers

(1) Mix flour, salt, and water together to form a batter (2) Allow the dough to rest for 30min. Heat pan on low heat and add a little cooking oil to the pan (3) Pour one scoop of batter in the pan to cook Spring Roll wrappers (4) Remove the Spring Roll wrappers and let cool, then repeat the wrapper making process

Making Spring Roll Filling

(1) Marinate sliced meat with rice wine and soy sauce for at least 30 minutes (2) Rehydrate dried mushrooms first, then slice the mushrooms, carrots, leaks, cabbage, bean sprouts and firm tofu into a thin julienne (3) Heat a wok with some cooking oil. First stir fry the meats until medium rare, then remove them from the wok (4) Add all the sliced vegetables and vermicelli into the wok and stir fry, season with salt and pepper (5) Add the meat back into the wok and stir fry until the meat is fully cooked. Remove the filling ingredients from the wok and let cool

Wrapping

(1) Place filling ingredients on top of a Spring Roll wrapper (2) Fold the bottom corner of the wrapper to cover the filling ingredients, then wrap the filling from both sides (3) Roll the Spring Roll tightly and seal the roll with flour paste (4) Deep-fry the Spring Roll until golden brown and crispy

Downloads

---
Recommandation
ANKO Spring Roll (Lumpia) Equipment Solutions
ANKO FOOD MACHINE CO., LTD. is a food making machine manufacturer and a food production solution supplier. We've been offering professional food equipment since 1978. With years of experience in the food machine market, ANKO makes sure that our food equipment meets customers' demands.
Food Processing Equipment Solutions
View our new food processing machine and turnkey solutions