---
HLT-700U x Wave Edge Mold: ANKO provided successful Pierogi Production Solutions for a Polish client
An ANKO client operates a food factory in Poland that specializes in manufacturing frozen foods. Pierogi is one of the national staples of Poland. This client initially relied heavily on producing Pierogi manually, then later switched to automated production using machines from a different manufacturer and encountered unresolved production issues. Then they discovered ANKO's HLT-700U Multipurpose Filling and Forming Machine, which is perfect for producing Pierogis, and it was supplied by ANKO's local agent in Poland; it has a CE Marking and comes with Artisanal forming molds that can create dumplings that closely resemble traditional handmade Pierogis. Our client was satisfied with ANKO's machine, production solutions, and our local agent was also very supportive with providing our client with current market insights.
Case-ID: PL-001
Pierogi
ANKO Team Research Problem Solving or Solution Delivery
Solution 1. A Hassle-free Production Experience with ANKO's Professional Automated Food Machine
This client produces a wide variety of Pierogis; they were using a Pierogi Machine from a different manufacturer but kept encountering problems with excess dough in the Pierogi. They contacted the machine manufacturer many times, but they were not able to resolve the problem. This client then approached ANKO and procured our Pierogi machine. Initially, this client started the production by their own. However, they had a wide variety of Pierogi made with various recipes, and there are significant differences in the mechanical designs between the automated food machines they acquired. Thus, they contacted ANKO for assistance, and our engineers went onsite and helped perfect their Pierogi production.
Solution 2. ANKO's onsite Professional training service is the key to success
This ANKO client is experienced in operating automated food machines and decided to start their own food production before enlisting ANKO's onsite training. They unfollowed the instruction from Operation Manual and found that the dough sticks on the forming molds, so they coated the molds with a layer of Teflon instead of filling the box underneath the forming molds with flour for dusting. This resulted in unidentifiable black spots on the products unacceptable for sale. They then requested ANKO's professional onsite training services, and our engineers were able to resolve their production problem by removing the Teflon coating and emphasized the importance of filling dusting flour box full. The client was appreciative and realized that the professional and technical support from ANKO, not only accelerated their learning curve, but also sped up their production process which led to greater success.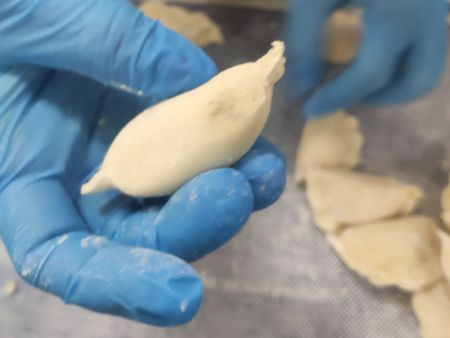 There were unknown black spots that appeared on the Pierogi after the client made changes on the forming molds
ANKO's professional engineers traveled to this client's factory to provide onsite problem solving, demonstrations, and training. This ensures the clients understand the proper production procedures and important details so they can produce perfectly formed Pierogis.
Food Equipment Introduction
Place dough in the dough hopper
Load the hopper with pre-mixed filling ingredients
Adjust the parameter settings and press start
Pierogi are produced automatically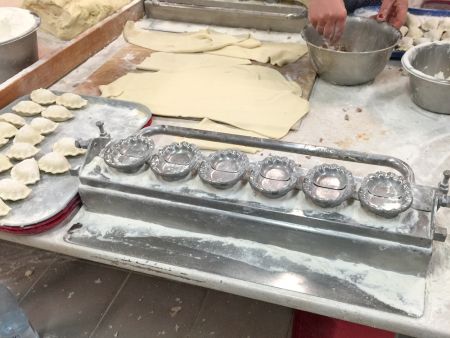 ANKO's customization capability creates great market opportunities for your food business
Handmade Pierogi is a labor-intensive process in Poland, the procedures start from preparing the dough to make them into wrappers and then add filling made from scratch. The Pierogis are then assembled using traditional forming molds. (Picture to the left) On average, a person can produce around 12 Pierogis per minute. Using an automated food machine production can increase to a few hundred pieces of Pierogi per minute. In this case, our client procured ANKO's HLT-700U Multipurpose Filling and Forming Machine and the "Wave Edge" Artisan molds. The height and the number of the "waves" can be customized to meet the product requirements, and these molds press and form Pierogis with uniformed thickness and great consistency. ANKO also offers Handmade Pleat Molds, and Thin Edge Molds for making dumplings to create market differentiations.
Solution Proposal

ANKO introduces the industry first "Integrated Dumpling Production Solution"

ANKO did

ANKO manufactures automated Dumpling machines and integrated production solutions. The HLT-700 Series Multipurpose Filling and Forming Machine is our main product, and it has three different models. It can be configured with a commercial food processor, meat grinder, and dough mixers for food prep, as well as an X-Ray Inspection machine and packaging equipment to build an integrated production line based on your specific production requirements.

ANKO can help you more

Our seasoned professional consultants can also assist you with labor allocation, factory planning, and production workflow management. Additionally, we have more than 16 regional agents and distributors to provide you with professional and local services.

If you are interested in more information, please click Learn More or complete the form below.

Machines

HLT-700U

ANKO's HLT-700U Multipurpose Filling and Forming Machine can produce Dumplings that resemble handmade products and has over 100 forming molds to create a wide variety of authentic Dumplings and various stuffed pastries. These include items such as Pierogis that use the Wave Edge mold, Chinese Style Dumplings, Samosas, Empanadas, and Ravioli, etc. ANKO's HLT-700U is easy to operate and only requires 1 or 2 employees to operate and no intensive training is necessary. It has the capacity to produce 2,000 to 12,000 pieces per hour. Being a pioneer in the automated food machine industry, we launched the Internet of Things (IoT) System, using AI to integrate our automatic Dumpling Production Lines and access real-time production data remotely to monitor on-site production status. More importantly, ANKO's IoT system automatically detects the parts that require maintenance and sends alerts to ANKO's Dashboard; this can minimize damage and costs in case of production downtime.

Country

Poland Ethnic Food Machine And Food Processing Equipment Solutions

---

Our food equipment solutions for clients from over 112 countries. You can click on the following categories to view cases. Each case shows how ANKO conducts food machine solutions - from the beginning of ingredient preparation, machine design and manufacture, troubleshooting and after service.

---

---

Category

---

Food Culture

Pierogis are Polish Dumplings, and one of the most iconic Polish cuisines. Pierogis are similar to Chinese Dumplings, Russian Pelmeni, and Italian Ravioli; however, they are much more versatile. Pierogi has a thicker dough wrapper, and it can be filled with savory potatoes, mushrooms, spinach, meats, and different vegetarian fillings. Fresh fruits such as strawberries, blueberries, apples, or fruit jams can be used for making sweet Pierogis. Pierogis are considered a staple food that can be boiled, pan-fried, baked, or deep-fried; they exist on almost every menu in a Polish restaurant, and they are made regularly in every Polish homes. These Polish Dumplings are also a very important part of the Christmas, and many other festive celebrations. There is a Pierogi Festival held every August in the city of Krakow, Poland, attracting numerous tourists and visitors to celebrate and feast.

Many food suppliers are also producing frozen Pierogi providing a delicious and convenient food option for people who don't have the time to cook from scratch. The most typical Pierogi is filled with potato and cheese, there are also Pierogis that are filled with onion, mixed cheeses, spinach, garlic, and even pumpkin Pierogi available. To promote Pierogi Worldwide, new flavor combinations such as beef and cheese, chicken, and tomato are created to meet different market demands. Many gluten-free Pierogi are also made catering to consumers with allergies and food restrictions, and they have been very popular. Pierogis have gained popularity due to rapid trades and Polish immigration relocating around the world. The US and Canada have become the largest consuming nations of Pierogis and designated the 8th of October as World Pierogi Day. Restaurants around these nations celebrates this day with various events and promotions.

Handmade Recipe

Food Ingredient

For Wrapper-Flour/Salt/Water/Eggs/Butter, For filling-Potatoes/Onions/Cream/Cream cheese/Salt/Pepper

How to make

(1) Use the commercial mixer to mix flour and salt together (2) Add water, eggs, and butter into the flour mixture to form a smooth dough, then let the dough rest for 30 minutes (3) Peel and dice the potatoes, then cook them in boiling water until they are soft (4) Dice the onions, then sauté them with butter until they are translucent (5) Drain the cooked potatoes and then mash them (6) Mix the mashed potatoes, cream cheese, salt and pepper together to make Pierogi filling (7) Sprinkle flour on a working surface and then roll the dough out into a 1/8-inch flat sheet (8) Use a 3-inch round cookie cutter or a glass to form the Pierogi wrappers (9) Place a spoon full of filling on the center of the wrapper, then hand pinch to seal the edges to form the Pierogi. Repeat the process (10) Cook the Pierogis in boiling water for 3 to 5 minutes, then remove from the pot (11) Heat a pan with butter and then sauté the diced onions until slightly caramelized (12) Serve the Pierogis with caramelized onions and sour cream

Downloads

---
Recommandation
ANKO Pierogi Equipment Solutions
ANKO FOOD MACHINE CO., LTD. is a food making machine manufacturer and a food production solution supplier. We've been offering professional food equipment since 1978. With years of experience in the food machine market, ANKO makes sure that our food equipment meets customers' demands.
Food Processing Equipment Solutions
View our new food processing machine and turnkey solutions