---
Glutinous Rice Ball Automatic Production Equipment Designed to Solve Problem of Extruding Dry Filling
The client sells a great variety of foods. Although glutinous rice ball was not one of the main products, he needed a solution to produce glutinous rice balls effectively. Therefore, he visited ANKO's booth at a Hong Kong exhibition. Compared to other glutinous rice balls, the client's filling recipe contains more ingredients, including peanut powder, coconut powder, and sugar powder, which makes workers hard to fill the same ingredient quantities into each glutinous rice ball. Nevertheless, it is also difficult for machine to extrude powder filling because it easily tends to clump up and clog the filling system. Therefore, for making stuffed food with powder filling, ANKO's Automatic Encrusting and Forming Machine with a special designed powder filling system is highly recommended.
Case-ID: HK-005
Glutinous rice ball
Food Ingredient
For wrapper
Whole Milk
Condensed Coconut Milk
Glutinous Rice Flour
Icing Sugar
Corn Starch
Butter
For filling
Icing Sugar
Peanut Powder
Coconut Powder
Food Culture
Glutinous rice ball/cake is consumed in some Asian country. It is known as mochi in Japan and Taiwan and called nuomici in Hong Kong. Mochi is one of popular foods in Japan. The Japanese even have many ways to cook and eat mochi. For example, toast mochi and serve it with condensed milk or other kinds of sauce. In Taiwan, except the Hakka style mochi that is coated with peanut powder, various fillings can be wrapped into mochi to create different flavors and texture. And about nuomici, it is similar to mochi, but nuomici contains more moisture than mochi. In Hong Kong, nuomici is usually filled with the mixture of peanut and sugar powder, but sometimes people like plain ones. Hong Kong people like not only to have a nuomici at the end of a meal, but also to give a box of nuomici as a present.
Handmade Food Recipe
For wrapper
(1) Melt butter in a double boiler. (2) Put glutinous rice flour, cornstarch, icing sugar, milk, condensed coconut milk in a large bowl. (3) Stir and mix them together until no lump remains. (4) Add melted butter into the large bowl and mix them well. (5) Steam the batter in a steamer for around ten minutes. The batter will turn into springy dough. (6) Put the dough into another bowl and cover with a cling wrap. Set aside to cool it.
For filling
Mix icing sugar, peanut powder, and coconut powder in a bowl.
Wrapping
(1) Divide the glutinous rice dough into equal portions. (2) Cover a small dough ball with a cling wrap. (3) Use a rolling pin to roll the dough ball into a circular wrapper. (4) Put a spoon of powder mixture in the middle of the wrapper. (5) Pinch the edge and shape the glutinous rice ball into a round shape.
ANKO Team Research Problem Solving or Solution Delivery
Glutinous rice dough is very sticky. How to prevent the final products from sticking on the conveyor and deforming as being picked up?
When making glutinous rice balls, dusting a large amount of rice flour is required to prevent sticking, but the process is time-consuming. We suggested them using the SD-97W Automatic Encrusting and Forming Machine because it can be equipped with a turning round tray rather than a conveyor for producing sticky food. This tray with a thick layer of rice flour covered can prevent the final products from sticking and deforming as being picked up.
Food Equipment Introduction
Put mixed powder filling into the filling hopper
Put prepared glutinous rice dough into the dough hopper.
Extrude filling and glutinous dough into a cylinder.
Divide it into equal balls by the shutter unit.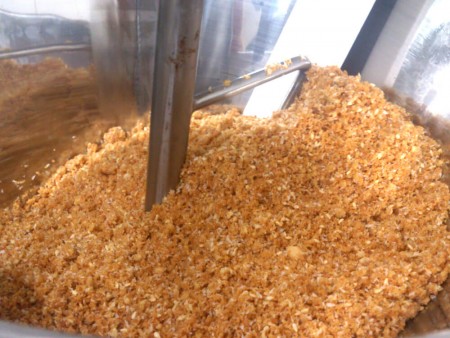 The filling system is ingeniously devised to extrude powder filling such as peanut powder, coconut powder, powdered sugar, etc.
The filling system extrudes filling out with a "push" action. In general, filling which has flowability can be pushed out smoothly, powder in dry condition as well. However, when powder clumps up because of moisture, the filling system will be clogged by these clumps. Therefore, a stirring mechanism is designed to loosen clumped filling all the time.
Processing Line Planning
Sieving
Mixing
Rounding
Sealing
Machines

SD-97W

Automatic Encrusting and Forming Machine is designed to produce stuffed food products. The shutter unit divides stuffed dough into small or large products, from a minimum of 15 g to a maximum of 70 g. Patterned or non-patterned shutter unit is also optional to form different shapes of food such as baozi, coxinha, kubba, and the like.

Moreover, the multipurpose SD-97W features memory function to save five sets of parameter setting, which makes users avoid time-consuming correction and adjustment. In this case, the SD-97W for the client is equipped with a powder filling system, a non-patterned shutter unit and a turning round tray to collect sticky glutinous rice balls.

Video

ANKO's SD-97 series Automatic Encrusting and Forming Machine extrudes dough tube and filling inside at the same time. Then, the stuffed dough tube is divided into small balls and collected by the turning round tray, which is covered with a layer of rice flour in order to prevent sticking as well as save labor and time. The production capacity of the SD-97SS shown in this video is around 1500-3600 pcs/hr. And the SD-97W can make about 2500-4200 pieces per hour.

Photo Gallery

Country

Hong Kong Ethnic Food Machine And Food Processing Equipment Solutions

---

Our food equipment solutions for clients from over 108 countries. You can click on the following categories to view cases. Each case shows how ANKO conducts food machine solutions - from the beginning of ingredient preparation, machine design and manufacture, troubleshooting and after service.

---

---

Solution Area

Category

---

Downloads

---
Menu
Recommandation
ANKO Glutinous rice ball Equipment Solutions
ANKO FOOD MACHINE CO., LTD. is a food making machine manufacturer and a food production solution supplier. We've been offering professional food equipment since 1978. With years of experience in the food machine market, ANKO makes sure that our food equipment meets customers' demands.
Our products include automatic encrusting and forming machine, multipurpose filling and forming machine, automatic spring roll pastry and samosa pastry machine, automatic shumai machine, and spring roll production line. Please feel free to
Contact Us
.
Food Processing Equipment Solutions
View our new food processing machine and turnkey solutions