---
ANKO Automatic Double-Line Won Ton Machine – Machinery Design for Canadian Company
The Canadian frozen food market is facing keen competition. Locals prefer ordering out or taking away food so as to save time. Ready-meal is also a choice for many families. In the client's chain restaurants, wonton soup is one of the most popular combinations. With the growing number of branch stores, they have to prepare more and more pieces of wonton every day. Therefore, they start using ANKO's wonton machine to automatically produce wonton, and then they freeze cooked wonton and deliver to every restaurant, which enable a rapid response to the increasing demand.
Case-ID: CA-002
Wonton
Food Ingredient
For wrapper
All Purpose Flour
Egg
Salt
Water
For filling
Ground Pork
Scallions
Ginger
Egg White
Water
Sesame Oil
Rice Wine
Salt
White Pepper
Corn Starch
Food Culture
Wonton is a type of dumpling in traditional Chinese cuisine. It originates in Northeast China, usually cooking with noodles into wonton noodle soup. Compare to dumpling, wonton is consumed with soup while dumpling is eaten with dips. Typically, wonton wrapper is thinner than dumpling wrapper. As for wonton recipe, people mix minced pork, chopped green scallions and ginger and wrap them in square wrappers which feature thin and tender, soft and smooth and will not be mushy though cooking, remaining a pleasant taste. In the region of Canton, it is called wantan the filling of which includes shrimp or minced fish.
Handmade Food Recipe
Ⅰ. For wrapper
Mix flour, salt, and egg in a large bowl and stir well.
Add water while stirring the mixture until flour absorbs enough water.
Knead the mixture into a lump of dough.
Cover with cling wrap and rest for 10 minutes.
Knead the dough again until pliable and smooth.
Rest for another 30 minutes and cover with cling wrap.
Roll out it into 3 mm thick.
Cover with cling wrap and rest for another 30 minutes.
Take it out and cut in half.
Roll out one of them as thin as possible.
Cut out 8 cm square pieces.
Ⅱ. For filling
Cut ginger and scallions into thin strips.
Knead them in a bowl of water, then discard scallion and ginger strips.
Chop ground pork into sticky paste.
Add sesame oil, rice wine, salt, white pepper, corn starch, ginger & scallion water, and egg white into meat paste. Stir them well.
Scoop meat paste on a wonton wrapper.
Smear water on the edges.
Fold in half.
Moisten opposite corners of the long side. Fold toward each other and press the overlapping parts together to seal.
ANKO Team Research Problem Solving or Solution Delivery
How to make it possible to produce pliable wrappers by machine to avoid frozen wonton from breaking after cooking?
Wonton is usually cooked and served in soup so that wonton wrapper should be soft and pliable to keep a smooth taste.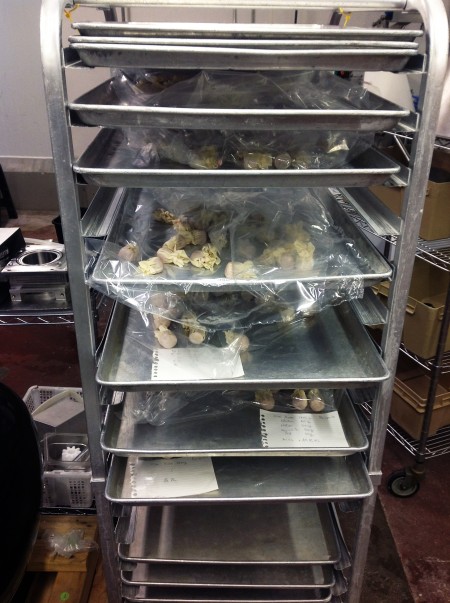 Basically, HWT-400 was designed a built-in wrapper pressing unit which already delivered the solution of producing elastic wrapper. However, the client had a higher demand for wonton wrapper. ANKO engineer, firstly, tested ten recipes in order to increase gluten and evenly retain in a wrapper. He elaborately recorded the differences between ten recipes and the results to find out the best one to satisfy the client's requirement.
Secondly, considering not increasing costs, we employed the pressing device of ANKO's HLT-series machine and a wrapper pressing machine the client already had to process dough and press it into dough belt. Afterwards, the pressed dough belt would be guided to HWT-400 which would proceed to the continuous production. In the end, through the change of recipe and the additional pressing processes, the plus effects finally suit the requirements of wrapper characteristics. The final products were soft and smooth through cooking, even the frozen ones.
Food Equipment Introduction
Pre-press dough into dough belt with a sheeter due to the client's requirement.
Guide dough belt to HWT-400
Tong dough belt and cut it into required size (within 90-100 mm).
Punch wrappers into cylinder molds.
Extrude stuffing into wrappers.
Clip the top of cylindrical stuffing to pleat on wrappers and strengthen the tightness between wrapper and stuffing.
Push final products forward onto conveyor.
Processing Line Planning
Sieving
Mixing
Vegetable Cleaning
Vegetable Cutting
Extracting
Meat Mincing
Seasoning
Forming
Frying
Sealing
Machines

HWT-400

Stir flour into fluffy crumbs and then pour them and stuffing into hoppers, respectively. After that, automatic production of wonton begins from pressing wrapper, cutting, extruding stuffing to finishing products in one machine. The final products are neatly lined on the machine conveyor, which is very convenient for the client to pack and freeze, and then deliver them to restaurants or supermarkets.

Video

After testing ten different recipes, the engineer cooked wonton. The wrapper was not broken; even he held it by hand and shook it.

Photo Gallery

Country

Canada Ethnic Food Machine And Food Processing Equipment Solutions

---

Our food equipment solutions for clients from over 108 countries. You can click on the following categories to view cases. Each case shows how ANKO conducts food machine solutions - from the beginning of ingredient preparation, machine design and manufacture, troubleshooting and after service.

---

---

Solution Area

Category

---

Downloads

---
Menu
Recommandation
ANKO Wonton Equipment Solutions
ANKO FOOD MACHINE CO., LTD. is a food making machine manufacturer and a food production solution supplier. We've been offering professional food equipment since 1978. With years of experience in the food machine market, ANKO makes sure that our food equipment meets customers' demands.
Food Processing Equipment Solutions
View our new food processing machine and turnkey solutions