---
Multipurpose Filling & Forming Machine -Machinery Design for Taiwanese Company
The long-established North China cuisine restaurant is owned by a veteran emigrating from China. Its signature dish --potsticker--is many people's all time favorite, as a result, the supply was often unable to meet the demand. Then, they decided to manufacture potstickers with machine and took the opportunity to improve the appearance of their potstickers. In the end, they found ANKO because we offer customization services and project solutions. The project was totally different from the development of other standard potsticker making machines. During the period of research and development, we'd tried potstickers with both-end-open, both-end-close, different sizes and types of sealed ends as well as given them many professional suggestions patiently. Finally, the customized forming mold for making both-end-close potstickers and the final products satisfied their needs and gave them more confidence in boosting sales in the future.
Case-ID: TW-006
Potsticker
Food Ingredient
For wrapper
All Purpose Flour
Salt
Boiling Water
Cold Water
For filling
Ground Pork
Scallions
Garlic Chives
Cabbage
Sesame Oil
Rice Wine
Soy Sauce
Ginger
Garlic
White Pepper
Food Culture
Potsticker, a variant of dumpling, is pan-fried stuffed food with long shape and golden brown bottom. It is usually stuffed with pork and cabbage or pork and leek mixture. As cooking, spread oil in the pan to prevent potstickers from sticking, then add them in a single layer. Pour water and cover the lid to cook. The fried potstickers with golden brown and slightly burnt bottoms look so mouth-watering. For people who like the crispy taste, mixing some flour into water to fry would create a larger crust.
Handmade Food Recipe
Ⅰ. For wrapper
Mix flour and salt in a large bowl.
Add boiling water, stir with chopsticks until they become crumbs.
Add cold water and well stir them together
Dust the work surface with flour and knead the dough by hand on the worktop until smooth and elastic.
Cover with a damp cloth and rest the dough for 20 minutes.
Ⅱ. For filling
Finely chop scallions, garlic chives, and cabbage, then grind ginger and garlic.
Mix them and ground pork in a large bowl.
Season with sesame oil, rice wine, and soy sauce, then sprinkle some white pepper.
Well mix all ingredients together.
Ⅲ.
Roll the dough into a long shape.
Divide it into equal portions.
Roll out each dough ball into a circle.
Take a wrapper in the palm and place a scoop of filling in the center of the wrapper.
Spread a little water along the edge, fold the wrapper in half.
Pinch and make three to four pleats from the left corner toward the center, and then make opposite pleats from the right corner.
Repeat the last three steps to wrap the rest of filling.
ANKO Team Research Problem Solving or Solution Delivery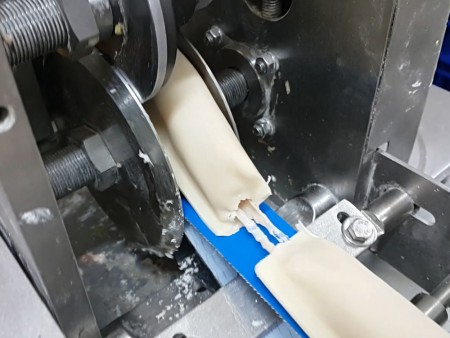 Meat tendons were too long to tear wrappers
Through the rotary forming mold of HLT-700XL, products are formed as the way of die cutting. If there were too many tendons in the filling mixture, it would lead to numerous final products unsealed and even torn. Thus, users should pay attention to the length of tendons as preparing meat in case it might have a great impact on the yield.
The dough tube was twisted in the producing process, as a result, the look of the final products was not pleasing and they could not stand firmly on the griddle.
The HLT series extrude dough tube to wrap filling. The extrusion pressure, as a rule, randomly distributes over the dough tube, so sometimes the extruded tube is twisted and bent. In the past, it was not a problem because the products are formed by the caves on the both sides of the forming mold. It could effectively straighten the curved tube. However, it became a problem in this project since firstly the forming caves were arranged on one side; secondly, the filling wasn't fully stuffed in the dough tube according to the client's recipe. In order to solve the problem, ANKO's engineer imitated hand gestures to ....
Food Equipment Introduction
Put filling into filling hopper.
Put dough into dough hopper.
Filling is extruded into a cylinder through filling pipe.
Dough is formed into a dough tube through dough pipe.
Cylindrical filling is stuffed into dough tube while they are made.
With the pressure of forming mold, products are shaped as required.
The use of scraper helps release food products from the mold.
The final products are collected by a conveyor for the next packing or cooking process.
Customize a forming mold for both-end-open potstickers
The restaurant had served handmade potstickers with both ends open, whereas most products made by ANKO's HLT-700XL are both-end-close. We had never customized a forming mold similar to the client's requirement. It's a whole new project so that we involved ourselves in researching and developing, at the same time, we offered the client some professional suggestions and other similar cases for references. Finally, the customized forming mold could successfully produce both-end-open potstickers and the taste after frying was also satisfying.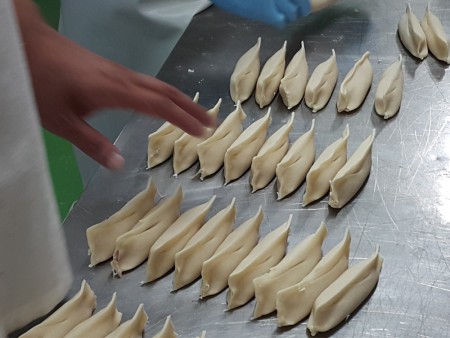 To customize both-end-close potsticker forming mold
Although their handmade potstickers had been made both-end-open, the management team knew the juice could not be locked in the products. Due to the reason, they changed their mind and would like to produce end-sealed potstickers. ANKO immediately adjusted the forming mold and smoothly produced the products as they wished.
Machines

HLT-700XL

ANKO's HLT-700XL Multipurpose Filling & Forming Machine can produce various shapes of products through simple changes of forming mold. The whole automatic process starts after putting in kneaded dough and seasoned filling. The thickness of wrapper and an amount of filling per piece can be adjusted separately. It is a high-quality food making machine with the features of compact size and high productivity. The capacity goes from 1,000 pieces up to 30,000 pieces per hour according to the product size. For meeting individual requirements, the forming mold and production rate are able to be customized.

Video

The look of end-sealed potstickers is rectangle which is just formed by the customized forming mold. Then, after flipping and shaking by hand, they can stand firmly on a griddle and be fried into golden brown.

Country

Taiwan Ethnic Food Machine And Food Processing Equipment Solutions

---

Our food equipment solutions for clients from over 108 countries. You can click on the following categories to view cases. Each case shows how ANKO conducts food machine solutions - from the beginning of ingredient preparation, machine design and manufacture, troubleshooting and after service.

---

---

Solution Area

Category

---

Downloads

---
Menu
Recommandation
ANKO Potsticker Equipment Solutions
ANKO FOOD MACHINE CO., LTD. is a food making machine manufacturer and a food production solution supplier. We've been offering professional food equipment since 1978. With years of experience in the food machine market, ANKO makes sure that our food equipment meets customers' demands.
Food Processing Equipment Solutions
View our new food processing machine and turnkey solutions