---
ANKO Smart Machine – Pioneering The Integration of Internet of Things [IoT] in Automated Food Production
ANKO regards the IoT system as the foundation for new automated production lines when transforming into an intelligent factory influenced by the Industry 4.0 movement. Our new IoT system was officially introduced in December 2022 after more than three years of development working with system integration companies and various feasibility tests. ANKO introduces our IoT system to the HLT-700U Multipurpose Filling and Forming Machine, to satisfy the increasing market demand for various Dumplings and similar food products that our clients request Worldwide. During the development stage, a Taiwanese client used ANKO's HLT-700U to produce Dumplings and based on their feedback, our engineers continued to improve our IoT system. After multiple user testing and verification, this client was very satisfied with the advantages ANKO's IoT system provided to their production needs. ANKO is able to assist businesses transition into smart manufacturing, and we are also proud to have achieved new milestones in smart machine innovation and in the food production process.
Case-ID: US-008
Dumpling
ANKO Team Research Problem Solving or Solution Delivery
Solution 1. ANKO's Smart Machine Remote Management: Achieving One Operator to Manage Multiple Machines
Previously, during the automated food production process require operators to supervise the production line on-site, to ensure smooth and accurate operational success. After ANKO incorporated the IoT system into our smart machinery, its production status can be monitored remotely via mobile devices. This allows one operator to manage multiple product lines simultaneously and thus increases labor efficiency. Switching to ANKO's smart machines, managers can monitor machines and production status remotely with increased information and accuracy. This reduces the need for manual routine inspections and lowers the costs of operations costly. Integrated food production with AI is becoming the new norm for many successful food manufacturing businesses worldwide.
Solution 2. Data Based Production Management to Improve Production Efficiency
Production reports were completed in printed documents and filed manually in the past, which was time-consuming and labor intensive. Now, ANKO's smart machines upload and record all production information in the cloud system preventing data loss, inaccuracy, and any mistakes during employee shift change. When key information is digitalized, production managers can access production status via a mobile device that is connected to the internet and communicate with the production line manager in real time. More importantly, ANKO's IoT system is readily available for immediate use so no additional investment in programs or systems is required. All that is needed is to log in ANKO's IoT system to have immediate access to real-time production status, allowing managers to effectively allocate human resource and properly manage the production operations.
Solution 3. ANKO's IoT System – Advanced Maintenance to Reduce Operational Downtime
A machine failure can cause production line downtime, it may require professional technician onsite to find the malfunction parts and troubleshoot. Generally, the production resumes only after a new part is ordered and delivered to the factory, then installed. If this occurs during a peak production season, it will affect the profitability of the business. ANKO integrated the IoT system into our machines to automatically detect any anomalies which will identify parts that may need replacement and immediately send an alert to the ANKO Dashboard. Then the technician can schedule a rapid plan for maintenance. Parts can also be procured in advance, and this system extends the machine's lifespan, it also improves food production and machine maintenance efficiency. ANKO's Dashboard displays your machine's operational status, production management, and maintenance reminders. ANKO's Reporting Platform is able to accept manually entered reports such as maintenance feedback forms, troubleshooting documents, production issue reports, waste material statistics, and management memos, etc; all to make the system easy to use and help your business succeed.
ANKO integrated the IoT system into our machines to fundamentally upgrade food production systems to create a smart factory. We focus on solving production and maintenance issues, reducing labor requirements, and facilitating your equipment maintenance scheduling. ANKO is dedicated to helping food manufacturers increase their production efficiency, as well as business innovation and transformation.
Food Equipment Introduction
Plug-in the network cable
Press the IoT Inspecting Button to evaluate the machine's operation status
Initiate food production
Production data should be uploaded onto the cloud system simultaneously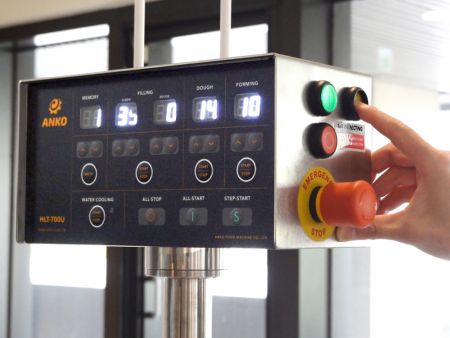 Press the IoT Inspecting Button and wait until you hear the whistle, then the inspection procedure is complete
Moving Forward to Success of Smart Manufacturing! Introducing Cloud Computing Technology with ANKO Food Machines
ANKO supplies our machines to the food manufacturing industry, and our goal is to develop machines that are "easy to use" for our clients. During the development stage, our engineers planned separated management systems for machine and the cloud computing system. Based on our design concept of machines, we focus on production information and machine maintenance and select the corresponding parts, then further developed the systems required for remote monitoring, motor drives, and sensors. In order to make the cloud data processing operate smoothly, the initial raw data is processed into valuable production information. Furthermore, the cloud interface is designed with graphics and focuses on excellent user experience, to present information in a more visual and easy-to-understand manner, to increase readability and fluency.
Solution Proposal

Food Manufacturing Upgrade – Optimized Automated Dumpling Production Solutions with Built-in IoT System

ANKO did

Automated food production and the introduction to smart manufacturing has become the core of food factories; this trend is accelerated and driven by the lack of manual labor in this specific industry around the world. This simplifies the complex production process into simple parameter settings which are entered by the operating staff; this increases production capacity. After introducing the IoT system, it is also possible for one person to manage and monitor multiple manufacturing machines, and daily production information via a mobile device.

ANKO can help you more

ANKO's One-stop Dumpling Production Solutions include the configuration of complete production lines integrated with vegetable processors, meat grinders, dough mixers, forming machines, packaging equipment, and Food X-Ray Inspection machines to increase automated Dumpling production efficiency.

If you are interested in more information, please click Learn More or fill out the inquiry form below.

Machines

HLT-700U

ANKO verified our IoT system with clients in Taiwan who own an HLT-700U Multipurpose Filling and Forming Machine. They were very satisfied with the results and purchased an additional machine. ANKO's HLT-700U has an impressive capacity and it only requires 5 hours of operation to complete normal daily production requirements. With our optimized production management system, businesses can focus on new product development and expanding their distribution channels. Production line managers really appreciate the convenience, information and accuracy provided by ANKO's IoT system which is sent to a mobile device.

Country

United States Ethnic Food Machine And Food Processing Equipment Solutions

---

Our food equipment solutions for clients from over 112 countries. You can click on the following categories to view cases. Each case shows how ANKO conducts food machine solutions - from the beginning of ingredient preparation, machine design and manufacture, troubleshooting and after service.

---

---

Category

---

Downloads

---
Recommandation
ANKO Dumpling Equipment Solutions
ANKO FOOD MACHINE CO., LTD. is a food making machine manufacturer and a food production solution supplier. We've been offering professional food equipment since 1978. With years of experience in the food machine market, ANKO makes sure that our food equipment meets customers' demands.
Food Processing Equipment Solutions
View our new food processing machine and turnkey solutions