---
ANKO Chinese Steamed Bun Production Line - Machinery Design for a Panamanian Company
ANKO's client owns a central kitchen that is capable of providing meals for over 1,000 people. It provides Asian cuisine including siomai, dumpling, spring roll, etc. With the increased baozi demand, handmade quality and weight control become harder. Thus, they contacted ANKO for assistance.
Case-ID: PA-001
Flour dough ingredient -
5 cups bread flour or all purpose flour, plus 1/3 cup, 2/3 cup water, 1 1/3 cup milk, divided1/3 cup sugar, 1 teaspoon salt, 4 teaspoons instant yeast, 2 eggs, 4 tablespoons melted butter, egg wash (1 egg, beaten with a tablespoon of milk)
Filling's ingredient –
sesame oil, 1/2 cup shallots or red onion, 2 tablespoons sugar, 1 ½ tablespoons soy sauce, 2 tablespoons oyster sauce, 1 ½ tablespoon sesame oil, 1 tablespoon dark soy sauce, ¾ cup chicken stock, 3 tablespoons flour, 2 cups diced Chinese roast pork (cha siu)
Mini Chinese Steamed Bun
Food Ingredient
Flour
Water
Sugar
Salt
Yeast
Soy Sauce
Oyster Sauce
Sesame Oil
Chicken Stock
Chinese Roast Pork
Cha Siu
Food Culture
In Chinese bakeries, rather than western style bread, you can see steamed or baked Chinese buns sitting on the shelf. Many yum cha restaurants offer plates of steamed or baked Chinese pork buns. Steamed bun is always one of the popular selections. It is a bun filled with small chunks of barbecue-flavored pork.

In some regions, Chinese pork buns can be vegetarian or filled with lots of meat; on the other hand, it can be cha siu bao flavor. With baked buns, there is sesame sprinkled on top, for steamed ones, it would be plain white bread.

There are various names for the food like that, you can call them baozi, BBQ pork bun or Cha Siu Bao, Chinese dumpling, etc. They are served at any point during a meal or you can just have it as a snack.
Handmade Food Recipe
For dough - Mix all flour, water, milk, sugar, salt, and yeast together. Knead until dough in your hand doesn't feel sticky, which means it's the right stretch. When it's done, rest it for 1 hour.
For filling - Put all the ingredients in a big bowl and start to season and blend. When it's done, put it in the fridge for 30 minutes.
When both main ingredients are ready, you can start to make baozi.
Cut dough into small dough balls. Use a rolling pin to roll each dough ball into flat and circular. Put a full tablespoon of filling into the center of the wrapper. Pinch the edge of a wrapper with your hand and twist it up towards the center of the bun.
Steam buns for 10-15 min.
ANKO Team Research Problem Solving or Solution Delivery
Solution 1.steamed bun burst handling
The filling burst when the steamed bun was wrapped with 2mm thin skin and the weight was 10g. During the test of food making equipment, the filling got squeezed out while the machine was conducting cutting by the shutter set, which was a design to pattern on hand gesture such as pinches. To solve the problem, ANKO team adjusted the ...(Please contact us to get more information)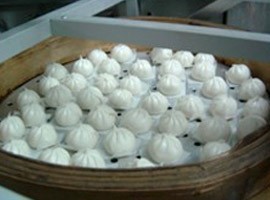 Solution 2. 2mm dough sheet requirement
When the steam bun's skin was too thick, not only did the bun taste too doughy, but the filling was too little and the weight would be heavier than 10g, which was not what they asked for. ANKO's engineering team designed a dough sheeting component that would perform ...(Please contact us to get more information)
Food Equipment Introduction
Place flour, baking soda, yeast, salt, sugar, water in the mixer container and start to stir. With the custom made pork bun making equipment, first, dough sheet is pressed by a roller to make it thin and smooth. Once the dough wrapper is ready, it will wrap up the filling that is extruded from an extruder followed by cutting the Chinese pork bun with desired shapes. (Patented No.M463045)
The advantage of the automatic pork bun processing line is its dynamic capability in manufacturing foods that require filling, wrapping, and forming. In addition, SB-880 can connect to other feeding machines to produce various types of stuffed food, including meat buns, vegetable buns, bean paste buns, without changing machine devices.
Fundamental of Design
When the client asked for a food processing equipment that is capable of making 10g mini size steamed buns, ANKO's engineering team had an idea in mind that it's going to be a custom made machine. Moreover it had been hard to maintain the same quality of each steamed bun with manual work, therefore, automatic production is necessary.
Besides, texture and taste should still remain the same as their handmade products. ANKO re-designed a patented (No.M463045) automatic multi-tasking food making production line, SB-880, to meet all the requirements, including the size of steamed bun, 100% handmade texture, a wrapping processing that would make nice bun shape.
Processing Line Planning
Stuffing preparation
Dough preparation with fermentation steps
Hopper for stuffing
Container for dough ball
Dough ball kneading
2mm dough ball pressing
2mm dough belt sheeting
Stuffing extruded
Dough skin wrapping from the side
Rolling into a stuffed dough pipe
Stuffed dough go through a icy cold piple
Cutting
Shaping
Cooking
Cooling
Packaging
Machines

Video

Automatic Mini Juicy Bun and Manty Processing Machine - ANKO's Steamed Bun Processing Line not only supply steamed buns, but is capable of making Chinese burger, bean paste buns, Chinese hamburger, steam bread, stuffed bread, Bakpia Pathoks by customization.

Automatic Meat bun Making Machine - ANKO's Steamed Bun Processing Line not only supply steamed buns, but is capable of making Chinese burger, bean paste buns, Chinese hamburger, steam bread, stuffed bread, Bakpia Pathoks by customization.

Country

Panama Ethnic Food Machine And Food Processing Equipment Solutions

---

Our food equipment solutions for clients from over 108 countries. You can click on the following categories to view cases. Each case shows how ANKO conducts food machine solutions - from the beginning of ingredient preparation, machine design and manufacture, troubleshooting and after service.

---

---

Solution Area

Category

---

Downloads

---
Recommandation
ANKO Mini Chinese Steamed Bun Equipment Solutions
ANKO FOOD MACHINE CO., LTD. is a Taiwanese food processing equipment supplier and manufacturer. They've been offering professional food machinery in multipurpose filling and forming machine markets since 1978. With collected 38 years of experience, ANKO makes sure that their food machinery meets each customer's demands.
Our products include automatic encrusting, forming machine, automatic spring roll pastry and samosa pastry machine, automatic shu mai making machine, double line machine, automatic encrusting and forming machine, semi automatic spring roll and samosa machine. Please feel free to
Contact Us
.
Food Processing Equipment Solutions
View our new food processing machine and turnkey solutions