---
ANKO Automatic Double Line Shu-Mai Machine – Machinery Design for Malaysian Company
The client runs a vegetarian food processing factory with HACCP as well as Halal certification. Hundreds of vegetarian food products are manufactured by the company and exported to Singapore, Australia, and other countries. With the new online shopping site, they received more orders than before, so that they planned to replace high-cost and low-efficient handmade production with automation. The client has ANKO's Automatic Spring Roll and Samosa Pastry Sheet Machine already that has been smooth without lagging, as a result, they trust in our machine quality. In this case, the client would like to produce two kinds of siew mai with one machine. One is dough wrapper; the other one is tofu skin. Both they and we wondered whether the innovation of tofu skin siew mai could be made by the same machine. The client would like to have a try because we are the only company who offers testing service.
Case-ID: MY-001
Siew Mai
Food Ingredient
For wrapper
All Purpose Flour
Wheat Protein
Water
For vegetarian stuffing
Textured Soy Protein (Soy Meat)
Oil
Salt
White Pepper
Food Culture
Malaysia's cuisine is greatly influenced by the multi-ethnic population including Chinese. Siew mai is one of Chinese dishes, which is made with meat in North China. When the recipes were passed on to southerners, the stuffing primarily uses glutinous rice. Client in this case produces vegetarian foods processed with soy protein and soy meat alternatives. Traditionally, siew mai is garnished with roe, whereas the client's siew mai products use chopped carrot as a substitute. Except the garnishment, the production is not different from traditional siew mai. Both are eaten with soy sauce after steaming.
Handmade Food Recipe
For wrapper
Mix all purpose flour and wheat protein in a bowl.
Add water and knead the dough until smooth and pliable.
Cover with cling wrap and rest for 30 minutes.
For stuffing
Soak textured soy protein in water and drain.
Minced the textured soy protein.
Season with oil, salt, and white pepper.
Take out the dough and roll it as thin as possible.
Cut the dough sheet into small pieces, circle or square.
Scoop a spoon of stuffing on a wrapper.
Then, wrap the stuffing and shape siew mai into cylinder, but leave the top open
Steam siew mai for 10-15 minutes.
ANKO Team Research Problem Solving or Solution Delivery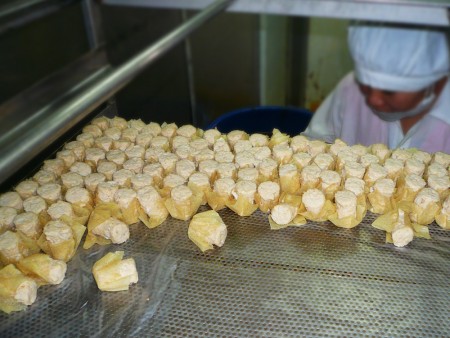 Is tofu skin siew mai able to be manufactured by a standard siew mai machine?
With the same machine, the client would like to create new flavor siew mai wrapped with tofu skin. Ideally, it might be possible. However, trying to make it by hand, we found the texture of tofu skin was not as viscous as dough to stick to stuffing. Our engineer continued adjusting ingredients to increase stickiness but failed. In addition to the first problem, if we assumed that we solved the above problem, the siew mai machine still could not realize the creative idea. The reason was that piles of rectangular tofu skins could not be delivered by machine units, which only work on belt-shaped wrapper. It was inefficient to manually cut and then connect each sheet of tofu skin into a belt prior to manufacture. Also, customizing this kind of machine was out of their budget. In view of the mentioned reasons, the client decided not to produce tofu skin siew mai in the end.
Despite the fact that the project failed, we embodied the spirit of customization. Relying on our professional machine design and years of experience, we try our best to achieve a variety of ideas. Boldly hypothesizing brings up innovation while ANKO proves it conscientiously and carefully. We keep a balance between ideal and reality to offer clients practical suggestions.
What's the reason that makes siew mai wrapper broken as producing
Due to less water content in siew mai dough, extensibility cannot fully and evenly act on dough....(Please contact us to get more information)
Food Equipment Introduction
Stir flour into fluffy lumps and pour them into dough hopper.
Pour prepared stuffing into stuffing hopper.
Start automated process.
Flatten dough.
Pull and fix dough belt in position with tongs and cut it into desired size (60-70mm).
Punch wrapper into forming mold.
Feed stuffing.
Slightly compact the top of siew mai to pleat on wrapper and make wrapper and stuffing tighter.
Garnish with chopped carrot.
Push the finished products onto conveyor.
The design of patent correcting pressing rollers.
If someone thought the pressing rollers could always roll out dough belt with same thickness, it's a big mistake. Due to the action of all machine units, two pairs of pressing rollers of HSM-600 will be slightly off-center because of friction or impact after a period of time use. Then, the dough belt will become uneven. Once the problem happens, it is necessary to reassemble machine parts, a time-wasting and labor-wasting inefficient work. As client doesn't know how to correct it, he/she has to contact technical support.
Providing the best machine quality is ANKO's purpose. Therefore, we developed a mechanism for real-time correction. The problem mentioned above can be solved easily and simply with a wrench. The innovation successively got a Taiwan patent.
Machines

HSM-600

In a 2 sqm of working space, after pouring dough and stuffing into hoppers manually, all processes-pressing dough, cutting, feeding, forming siew mai-complete with one machine automatically. A throughput of 5,000 to 6,000 an hour largely saves cost and space. As for siew mai appearance, wrapper thickness is modifiable as required. In addition, wrapper height can be equal to, higher or lower than stuffing height, which brings various visual effects. Moreover, the decorating device and granule feeding device are optional installations to garnish siew mai with roe or green beans. The client configured the latter one and garish siew mai with small chopped carrot.

Then, the client required much higher and slimmer siew mai shape which exceeded our standard product size. Although the shape would cause siew mai to fall over on the conveyor, the client accepted the problem after communication. Finally, ANKO team replaced parts to achieve the requirement.

Video

Soaked and puffed soy protein is used for making the stuffing of vegetarian siew mai. This kind of texture is also suitable for fully automatic production with ANKO Double Line Shu-Mai Machine.

Country

Malaysia Ethnic Food Machine And Food Processing Equipment Solutions

---

Our food equipment solutions for clients from over 108 countries. You can click on the following categories to view cases. Each case shows how ANKO conducts food machine solutions - from the beginning of ingredient preparation, machine design and manufacture, troubleshooting and after service.

---

---

Solution Area

Category

---

Downloads

---
Recommandation
ANKO Siew Mai Equipment Solutions
ANKO FOOD MACHINE CO., LTD. is a food making machine manufacturer and a food production solution supplier. We've been offering professional food equipment since 1978. With years of experience in the food machine market, ANKO makes sure that our food equipment meets customers' demands.
Our products include automatic encrusting and forming machine, multipurpose filling and forming machine, automatic spring roll pastry and samosa pastry machine, automatic shumai machine, and spring roll production line. Please feel free to
Contact Us
.
Food Processing Equipment Solutions
View our new food processing machine and turnkey solutions