---
Kibbi Mosul Pastry Production Line -Machinery Design for Jordanian Company
The manual production of kibbi Mosul pastry relies on a large amount of labor. The ingredients for making pastry and filling must be prepared separately; in addition, shaping a flat circle takes complex steps. Many Middle Eastern immigrants in western countries cannot forget the taste of hometown. Therefore, the market not only in Middle East but also in western countries, there have been marked growing needs for the manufacture of many kibbi products. A lot of clients hoped to have an automatic kibbi Mosul machine, so that ANKO has kept that in mind and carried out the new project development.
Case-ID: JO-002
Kibbi Mosul pastry
Food Ingredient
Minced Lean Beef
Bulgur
Salt
Water
Food Culture
Kibbi Mosul is commonly seen within frozen food products in Arab countries or Arabic stores in western countries. Compared with kubba, they are almost the same except for their shapes. Generally, both are made with bulgur, Middle-Eastern spices, minced beef or lamb, and then the mixture for making meat pastry is portioned out and rolled into flat circle. Spread chopped onion, minced meat filling on the center of a slice of meat pastry and cover with the other slice, then tightly press the edges to finish it like a UFO. Frozen kibbi Mosul products are effortless to find in every supermarket. People only have to put prepared filling between the ready-made kibbi Mosul pastries, after 10-minute boiling or frying, all families can enjoy the delicious kibbi Mosul much easier.
Handmade Food Recipe
Soak bulgur in water until soft.
Mix bulgur, minced lean beef, and salt in a bowl or a mixer.
Roll out each small meat ball into flat patty.
ANKO Team Research Problem Solving or Solution Delivery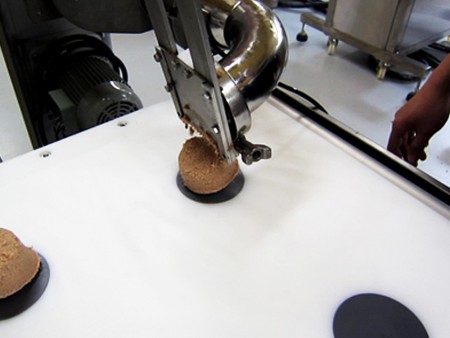 The viscosity of kibbi Mosul led to the difficulty in positioning and quantitative depositing patties.
Bulgur, one of ingredients of kibbi Mosul, increases viscosity after mixing with water and meat paste is also sticky. The natures of the foods resulted in unstable depositing and inaccurate position. In the stage of research and development, our R&D engineers focused on non-sticky design. They found that the solution was not only to use non-sticky molds, but also to create an innovative machine structure and an air blow system. ANKO's Kibbi Mosul Pastry Production Line boasts the unique depositing unit to maintain the traditional taste of Middle-Eastern food and achieve the needs of automated production without comprising clients' recipes.
Food Equipment Introduction
Prepare mixture for kibbi Mosul pastry production.
Deposit meat patties on film as preset size in position.
Cover patties with plastic film and convey them to pressing unit.
Film puller regularly pull films forward a set distance
Pre-pressed by the first row of pressing plates.
Tightly pressed by the second row of pressing plates.
Cut each piece out.
Stack final products in a pile as required that makes the sequent stages more convenient. e.g. spreading filling or packing and freezing pastries for sale.

Pre-pressing and compressing improve efficiency.
To compress meat patty into flat circle is related to the pressure of pressing device and the duration of pressing action. However, if we would like to boost productivity, single row of pressing plates is not enough. Therefore, ANKO installed one more row to implement two pressing processes- pre-pressing and compressing. Also, the ready-to-press and pressed products are conveyed at a certain rate to smoothly work with the pressing processes. As if two people press at the same time, clients can achieve maximum capacity and efficiency with less effort.
Tension adjustor to keep smoothing film.
The film conveying device equips two sets of film puller. Film puller A clips and conveys film to film puller B. Then, film puller A loosens and returns to its original position while film puller B clips. The action repeats to pull film. However, the film roll will become lighter, the film will be pulled too much and wrinkled as covering on products if the machine acts as usual. ANKO's engineer designed a device to increase the film roll's resistance to adjust the film tension. The measure prevents wrapping film wrinkling up.
Machines

Kibbi Mosul Pastry production line

Kibbi Mosul Pastry production line is combined with three sections--depositing, filming, and pressing. The depositing unit feature non-stick molds to maintain product quality and regularly deposit viscous patties. Through Automatic Filming and Pressing Machine, the meat patties are covered with top and bottom plastic film, then pressed into flat circle and cut up into pieces. The hourly capacity is 2,400 pastries. Finally, spread filling between pastries and press the edges of them manually.

Video

The automatic Kibbi Mosul pastry production line equips with a depositor and an Automatic Filming and Pressing Machine. It deposits viscous meat balls regularly, films plastic covers, presses balls into circular pastries, and cuts, which can make 2,400 pastries per hour.

Photo Gallery

Country

Jordan Ethnic Food Machine And Food Processing Equipment Solutions

---

Our food equipment solutions for clients from over 108 countries. You can click on the following categories to view cases. Each case shows how ANKO conducts food machine solutions - from the beginning of ingredient preparation, machine design and manufacture, troubleshooting and after service.

---

---

Solution Area

Category

---

Downloads

---
Recommandation
ANKO Kibbi Mosul pastry Equipment Solutions
ANKO FOOD MACHINE CO., LTD. is a Taiwanese food processing equipment supplier and manufacturer. They've been offering professional food machinery in multipurpose filling and forming machine markets since 1978. With collected 38 years of experience, ANKO makes sure that their food machinery meets each customer's demands.
Our products include automatic encrusting, forming machine, automatic spring roll pastry and samosa pastry machine, automatic shu mai making machine, double line machine, automatic encrusting and forming machine, semi automatic spring roll and samosa machine. Please feel free to
Contact Us
.
Food Processing Equipment Solutions
View our new food processing machine and turnkey solutions