---
ANKO Automatic Layer Paratha Production Line - Machinery Design for an Indian Company
This company is a food supplier that specialized in providing frozen prepared foods in India. They contacted ANKO for food processing equipment solutions due to increasing demands. The quality, weight, and size of the handmade paratha aren't consistent and the production capacity is low. It would therefore be a total solution if paratha production equipment can solve all problems.
Case-ID: IN-002
Paratha
Food Ingredient
Whole Wheat Flour
Salt
Water
Ghee
Sugar
Food Culture
Paratha is a kind of unleavened flatbread, which is made of atta. The flavor of paratha is various. Sometimes, people mix stuffing with flour and knead them together such as gobi paratha or makka paratha. Sometimes, they prefer having a plain paratha and eating with side dishes like aloo, or stuffed paratha with keema, chana dal, etc. As for dessert, sugar paratha has never been forgotten. It is the best time to taste them while they are cooked.
Handmade Food Recipe
Pour in flour, salt, sugar and ghee, add some water and well mix.
And add water as required.
Stir until it becomes pliable and elastic dough and leave it resting for 30 minutes.
Later, split them into same size dough balls.
Grab one of the dough balls and press on the dough ball, and then apply a rolling pin to roll it into a circle.
Fold the circle in a half and spread ghee on the folded surface by a brush.
Again, fold the semicircle in a half and also spread ghee as the last step.
Sprinkle some flour, and then apply a rolling pin to roll it into a triangle or a circle as you preferred.
Heat a frying pan and put paratha on a frying pan and bake it until it's a bit burned and crispy.
Smear ghee on the surface and flip it over.
Repeat the last step until there are brown spots on the surface.
ANKO Team Research Problem Solving or Solution Delivery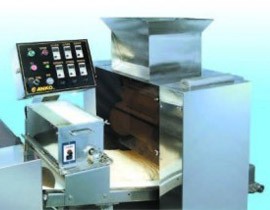 Solution 1. The stretchiness of dough sheet
Whole wheat flour forms inflexible and inelastic dough sheets that would be torn apart while processing. Especially when there is different processing equipment integrated to complete jobs, the different heights can break the sheets easily. To avoid it, ANKO engineering team adjusted the ...(Please contact us to get more information)
Solution 2. The design of ANKO's paratha processing equipment
Because of the smart design of this paratha processing line, the Indian client is able to provide paratha without losing the handmade texture, which is what their food is famous for. Years later, the great performance of the processing machine prompted the client to buy another line in order to reduce handmade quality's inconsistency and to expand their market to other regions.
Solution 3. The change of ingredients to prevent easily torn dough sheet
For this case, our sales engineer recommended the client to modify the ingredient of dough flour. It's helpful to add ...(Please contact us to get more information)
Food Equipment Introduction
Use a processing line to make paratha, put dough in a dough hopper after completing an ingredient blending process from a blender/mixer.
Dough in the hopper will be pressed into a dough sheet.
Margarine is added on the sheet and followed by folding and sheeting processes.
A series of z-direction folding and pressing is conducted to make multiple layers.
Next, the multilayer dough sheet is sheeted for three times before rolling up.
Then, the rolled dough is cut into little dough balls by EA-100K.
These dough balls are sent into different processing equipment to be covered by plastic film and pressed into flat and round dough sheets.
Pack a certain number of finished products per bag as required, and each piece is wrapped in film to prevent them sticking together.
Fundamental of Design
To make paratha with layers, all steps require a jointed processing line to achieve the jobs. Thus, ANKO designs to connect automatic layer paratha production line (LP-3001M), which can make more than 64 folds, and mini bun making machine (EA-100K, and now the updated model EA-100KA) and filming and pressing machine (PP-2). Three machines are integrated into an efficient processing line to complete the tasks.
LP-3001M is designed to perform multiple layers of folding and to make small buns and cutting; EA-100K (the updated model EA-100KA) is a great choice for pressing dough ball into flat shape and packing with plastic film at the same time; PP-2 would be the only selection.
Machines

LP-3001M

Dough hopper input / Thin paratha dough making / Margarine extruding and folding / Pressing and folding / Thinning dough skin for three times / Stuffing filling and rolling

EA-100K

EA-100K is used for cutting rolled dough into round-shaped dough balls as required. (The updated model is EA-100KA)

PP-2

Place dough balls on PP-2 platform in position. Press dough ball with plastic film on top. Plastic film will be automatically cut into proper size for packaging.

Video

Automatic Layer & Stuffed Paratha Production Line Video - ANKO's automatic Paratha food processing equipment is designed for an Indian client who would like to avert handmade food inconsistency, increase production capability and lower labor cost.

Country

India Ethnic Food Machine And Food Processing Equipment Solutions

---

Our food equipment solutions for clients from over 108 countries. You can click on the following categories to view cases. Each case shows how ANKO conducts food machine solutions - from the beginning of ingredient preparation, machine design and manufacture, troubleshooting and after service.

---

---

Solution Area

Category

---

Downloads

---
Menu
Recommandation
ANKO Paratha Equipment Solutions
ANKO FOOD MACHINE CO., LTD. is a food making machine manufacturer and a food production solution supplier. We've been offering professional food equipment since 1978. With years of experience in the food machine market, ANKO makes sure that our food equipment meets customers' demands.
Food Processing Equipment Solutions
View our new food processing machine and turnkey solutions