---
Automatic Encrusting and Forming Machine-Machinery Design for Peruvian Company
The Peruvian client is the boss of a restaurant and food factory. Our business relationship began with a compact vegetable cutting machine. As he found that ANKO's soft power in research and development as well as abundant recipes, we have become one of his consultants for solutions. The client's stuffed cassava products had been made by hand. When the demand increased to a certain amount, he was seeking a machine that provides labor saving and productivity boosting solutions. In order to ensure product quality, he came to our central kitchen in ANKO headquarters for a machine test run and face-to-face communication with our engineers regardless of the great distance. It's all for the best wrapper/filling ratio and the most appropriate recipe for automatic production.
Case-ID: PE-001
Stuffed cassava ball
Food Ingredient
Cassava
Butter
Egg
Salt
Sugar
Oil
Ham
Cheese
Food Culture
Like potato, cassava (aka. yuca) is cultivated for its edible starchy tuberous root as staple food or thickener. It grows in tropical regions and is the staple food crop in South America while potato usually distributes in dry and cold regions. Due to their growing environments, many potato-based dishes become cassava-based in tropical regions. The stuffed cassava ball is one of typical examples, showing that the food culture can be influenced by climate. This food product, similar to croquette, is made of diced ham and cheese but wrapped with mashed cassava, instead of mashed potato. Cassava brings a starchy and fibrous mouthfeel, whereas the taste of potato is fluffy and soft.
Handmade Food Recipe
Peel and boil cassava until soft.
Drain the cassava and remove fibers from the center.
Mash cassava, add butter, egg, salt, and sugar, then well mix them together.
Take a ball of cassava mixture and press it with the palms of the hands into flat.
Place a cube of cheese and some ham dices in the center.
Wrap them and form into long shape like a roll.
Heat oil in a pan, cook stuffed cassava over medium heat until brown.
ANKO Team Research Problem Solving or Solution Delivery
In order to lower the cost, the client hoped to reduce the amount of filling of each product. It's below the minimum amount of filling extruded by the standard SD-97W. For meeting the client's requirement, ANKO customized a smaller filling extrusion nozzle.
ANKO's machine can be installed various sizes of filling and dough extrusion nozzles to adjust the wrapper/filling ratio. The thickness of wrapper is adjustable by the adjustment nut for slighter change and slight modification of filling can also be controlled by filling extruding speed. However, the amount of filling of each product that the client required couldn't be made by our standard SD-97W. Even so, ANKO offered a tailor-made filling extrusion nozzle to satisfy the client's demand.
Stickiness of cassava increases after heating and loses as cooling down, but the process is irreversible. Therefore, for perfect stuffed cassava products, the production should complete as cassava is very plastic between a certain temperature ranch.
Like rice, cassava isn't sticky after reheating. Therefore, it is crucial to pay attention to both the temperature of cassava and the machine production rate. Preparing the proper amount of cassava ensures it is well formed during the producing process.
Food Equipment Introduction
After dicing and cooking cassava, knead cassava with a mixer, then put it into dough hopper.
Pre-mix ham and cheese together, then put it into filling hopper.
Test and adjust wrapper/filling ratio.
Start the production of stuffed cassava products. SD-97W automatically wraps filling in cassava wrapper, then the shutter unit cuts it up into equal balls.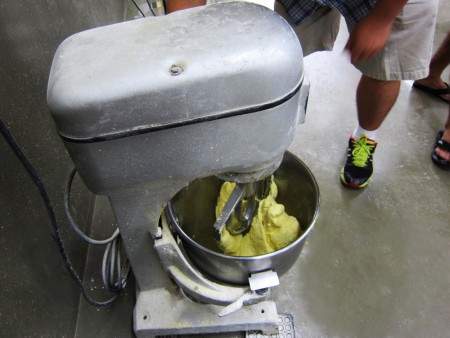 Cassava dough gets stickier after stirring, so how do we prevent it from sticking to machine parts and make stuffed cassava products smoothly?
In order to avoid sticking, our engineers elaborately designed the food contact surfaces of the forming system as less as possible. Only the shutter unit contacted food briefly. Although there was no doubt that the structure of the shutter unit had a significant impact on production, the shutter speed was the key to success. The perfect and pleasing products were formed between the closing and opening of the shutter. Moreover, for stickier food production such as mochi, the plate for collecting finished products is coated with Teflon and dusted with some flour. Also, using the plate, instead of conveyor, can prevent flour from scattering on the ground.
SD-97W Automatic Encrusting and Forming Machine is suitable for a great variety of filling texture ranging from powder like peanut powder to semi-solid materials like custard. Let's see how we make it.
SD-97W can be equipped with two kinds of filling propeller for dry and moist fillings. The one for moist filling has larger blades; the other one for dry filling has smaller blades. It is because that the moist filling is able to flow by squeezing. Conversely, squeeze makes the dry filling get stuck in the nozzle and causes motor damage.
Moreover, some ingredients of dry fillings would affect machine operation. For example, some powdery substances lump after squeezing and cause unsmooth feeding. For another example, fine sugar in dessert ingredients melts over heat generated from the squeezing process, which makes the filling become sticky and get stuck in the nozzle. With our years of experiences, we would suggest replacing fine sugar with coarse sugar. ANKO can always find solutions depending on the characteristics of food to maintain high productive efficiency without sacrificing the taste of food.
Machines

SD-97W

Automatic Encrusting and Forming Machine is designed to produce stuffed food products. The shutter unit divides stuffed dough into small or large products, from a minimum of 15 g to a maximum of 70 g. Patterned or non-patterned shutter unit is also optional to form different shapes of food such as baozi, coxinha, kubba, and the like. Moreover, the multipurpose SD-97W features memory function to save five sets of parameter setting, which makes users avoid time-consuming correction and adjustment. It is also available to make dual color wrapper with an accessory. The machine for the client was installed the non-patterned shutter unit to cut cassava products, which is stuffed with ham and cheese, into round or bar shapes as required.

Video

Arancini is a type of deep-fried rice ball stuffed with minced meat or cheese. Compared arancini with stuffed cassava ball, both wrappers contain high moisture and are sticky. With SD-97W Automatic Encrusting and Forming Machine, simply put well-mixed filling and wrapper materials in, it can automatically produce products. The multifunction machine can make not only arancini and stuffed cassava ball but also food products with high stickiness such as mochi, sticky rice ball, etc.

Photo Gallery

Country

Peru Ethnic Food Machine And Food Processing Equipment Solutions

---

Our food equipment solutions for clients from over 108 countries. You can click on the following categories to view cases. Each case shows how ANKO conducts food machine solutions - from the beginning of ingredient preparation, machine design and manufacture, troubleshooting and after service.

---

---

Solution Area

Category

---

Downloads

---
Menu
Recommandation
ANKO Stuffed cassava ball Equipment Solutions
ANKO FOOD MACHINE CO., LTD. is a food making machine manufacturer and a food production solution supplier. We've been offering professional food equipment since 1978. With years of experience in the food machine market, ANKO makes sure that our food equipment meets customers' demands.
Food Processing Equipment Solutions
View our new food processing machine and turnkey solutions