---
ANKO Wonton Production Line – Machinery Design for British Company
The client produces a wide range of products from dairy products, frozen ready meals to bakery. They are also devoted to customizing innovative foods. Various flavors and delicate appearances are superior to other competitors' products. However, the frozen food market changes all the time. How can the company strictly control costs while guaranteeing capacity and quality? The knack is the combination of machine-made and hand-made processes. They do not just sell unchanged products but garnish foods and vary flavors to surprise consumers. The combined processes not only save time and costs, but also turn the impression of uninteresting products made by machines. It is our pleasure that ANKO's machinery was chosen to shape their basic products, which means that our efficient and high quality machinery gains favor with the client.
Case-ID: GB-001
Wonton
Food Ingredient
For wrapper
All Purpose Flour
Salt
Water
Oil
For filling
Duck Legs
Shallot
Red Chilli
Scallions
Coriander
Garlic
Food Culture
Thin, soft, tender, and smooth, those are features of wonton wrapper; even so, it is able to cook in boiled water and not broken. Wonton originated in Northeast China is usually cooked with noodles and served as wonton noodle soup. Conventionally, wonton stuffing is made of minced pork. However, the British client turns wonton into duck flavor and then serves deep-fried duck wonton, instead of wonton soup. The creative dish makes the oriental food become a fusion cuisine serving at Western style banquets or parties.
Handmade Food Recipe
Ⅰ. For wrapper
Mix flour, salt, and water in a large bowl and stir until they become like breadcrumbs.
Mix flour, salt, and water in a large bowl and stir until they become like breadcrumbs.
Knead them into a chunk of dough.
Apply a pasta roller to roll out dough multiple times into 0.1 cm thick.
Cut out 8 cm square wrappers.
Preserve them in plastic bags in case they dry out.
Ⅱ. For filling
Chop shallot, red chilli, scallions, and coriander.
Debone the duck legs and shred the meat.
Heat a fry pan.
Cook the duck meat to medium.
Mix the duck meat, shallot, red chilli, spring onion, and coriander together.
Ⅲ.
Wrap up filling in wonton wrappers.
Pour oil in a wok and heat over medium-high heat.
Deep fry wonton until golden brown.
ANKO Team Research Problem Solving or Solution Delivery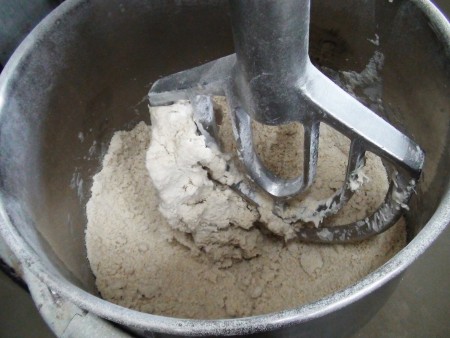 The adjustment of ingredients and environmental factors solved the problem of broken wonton wrapper.
In general, the texture of wonton wrapper, smooth and tender, is made of high gluten flour. However, if dough with low water content and does not stir well, the gluten cannot evenly contain in the wrapper that, then, easily breaks.
ANKO suggested the client using a planetary mixer with a flat beater to achieve the best dough quality; nevertheless, wrappers were torn off in the process of production. Afterwards, ANKO team launched into a series of check and judgment. We found the...(Please contact us to get more information)
Food Equipment Introduction
Apply a mixer with a flat beater to stir flour and wheat gluten until crumb-like, and then pour the crumb-like dough into dough hopper.
Pour duck stuffing into stuffing hopper.
Tongs clip wrapper belt and it is cut out pieces as required (the size must be within 90-100 mm).
Punch wrappers into cylinder molds.
Extrude stuffing into wrappers.
Clip the top of cylindrical stuffing to pleat wrappers and strengthen the tightness between wrapper and stuffing.
Push final products forward onto conveyor.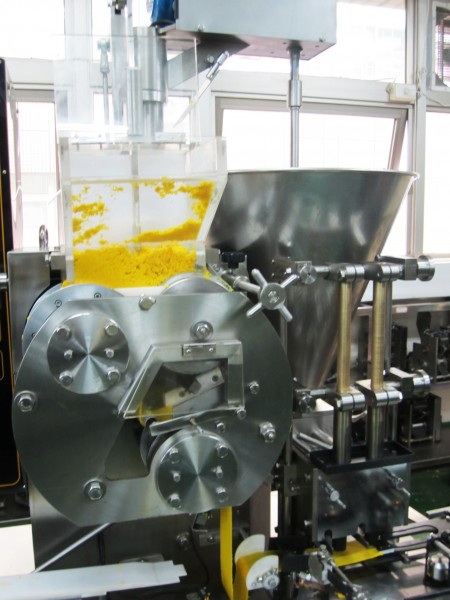 The perfect design of the seamless cooperation between wonton wrapper production and stuffing extrusion
The wrapper production and stuffing extruder are two separate systems; as a result, their production speed controlled by two motors is unable to fully correspond with each other.
Wonton wrapper retains less water and higher gluten. If tongs pull too strong, the dough belt may be torn off. To prevent the possibility mentioned above, there is a distinctive part to modulate the speed of dough belt conveyance to properly work with the processes of tonging and extruding. If the production of dough belt is too slow, the part will automatically send a signal to speed up pressing rollers through an inverter. On the contrary, if there is no ingredient in the dough hopper, the part will send a signal to stop stuffing extruder, which can reduce a waste of stuffing and the frequency of cleaning.
Processing Line Planning
Sieving
Mixing
Vegetable Cleaning
Vegetable Cutting
Extracting
Meat Mincing
Seasoning
Forming
Frying
Sealing
Machines

HWT-400

Dough for HWT-400 use should be mixed into fluffy particles in a mixer with a flat beater. As dough is ready, pour dough and stuffing in hoppers and then start fully automatic production that includes pressing dough, cutting into required size, extruding stuffing, forming, and pushing onto conveyor for the next stage that could be cooking or packaging. The wrapper thickness and stuffing weight are adjustable through the machine control panel. The capacity is approximately 3,500-4,200 wontons per hour. We considered that an accident had happened to the client's employee before so that we took safety seriously to install a custom CE cover. ANKO is always thoughtful of our clients.

Video

A flat beater of planetary mixer rotates on its own and revolves about a shaft center as planet's rotation and revolution. It is the reason to name a mixer Planetary mixer. This movement helps flour become fluffy, which is suitable for HWT-400 use, and evenly full of moisture to prevent wrappers being ripped when producing.

This video demonstrates how the wonton machine imitates manual production processes and achieves efficiency and standardization to make products with artisanal characters in appearance and taste.

Photo Gallery

Country

United Kingdom Ethnic Food Machine And Food Processing Equipment Solutions

---

Our food equipment solutions for clients from over 108 countries. You can click on the following categories to view cases. Each case shows how ANKO conducts food machine solutions - from the beginning of ingredient preparation, machine design and manufacture, troubleshooting and after service.

---

---

Solution Area

Category

---

Downloads

---
Menu
Recommandation
ANKO Wonton Equipment Solutions
ANKO FOOD MACHINE CO., LTD. is a food making machine manufacturer and a food production solution supplier. We've been offering professional food equipment since 1978. With years of experience in the food machine market, ANKO makes sure that our food equipment meets customers' demands.
Food Processing Equipment Solutions
View our new food processing machine and turnkey solutions